These are the best healthy baked apples for an easy to make, and nutrient dense dessert or snack for kids and adults alike. Plus, they're naturally vegan and gluten free!
It's a bit of a mystery where I apparently got my culinary prowess since it's always been a family joke that my mom hated to cook. As a parent of a toddler now (and another one who keeps me busy), I guess I can't really blame her. And if cooking is a struggle for a lot of us, baking is just not going to happen. Like all of us, my mom wasn't much for fussy cake recipes or homemade pie crusts. But she did know how to make a MEAN baked apple. To her, it was probably an easy recipe packed with a ton of nutritious stuff (apples, oats, nuts, etc.) that she would want us to eat. And to us, it was just dessert. Win, win. So I guess you could say I am following in mom's footsteps and making the best easy healthy baked apples that the whole family will love.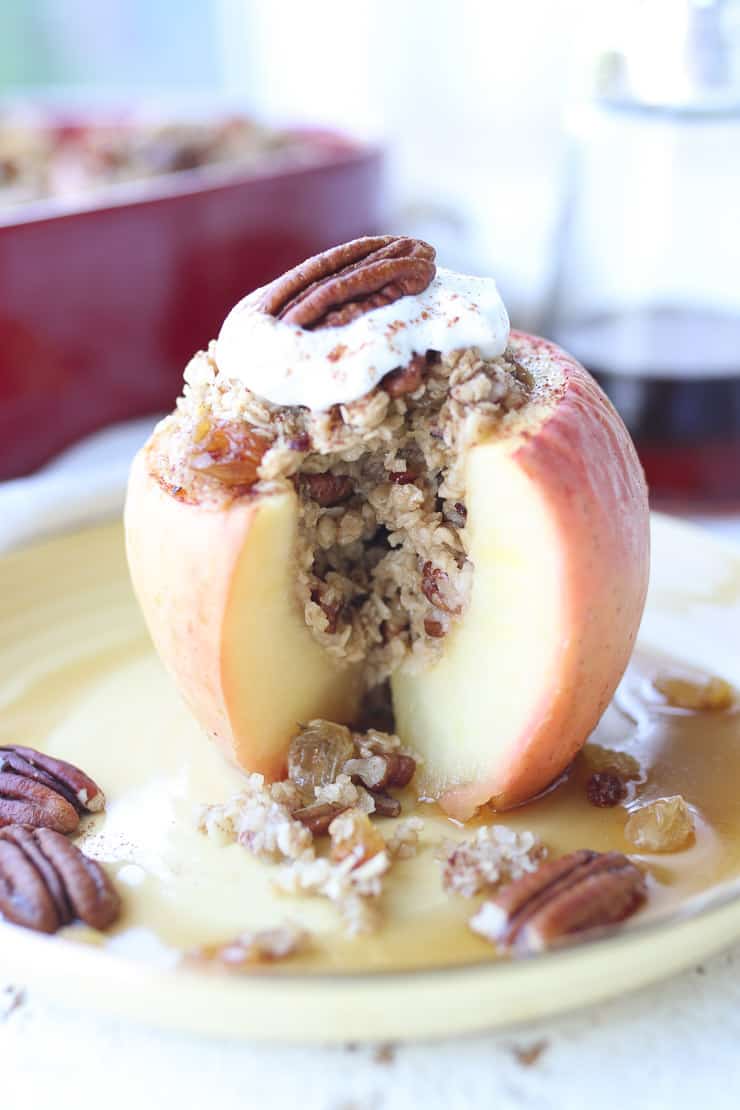 Key Ingredients for these Healthy Baked Apples
Here's everything you'll need to make these super easy baked apples. My bet is that you probably have most of these things in your fridge and pantry, and the recipe is so versatile, you can absolutely swap things in and out.
Apples – I recommend using large red apples (larger ones are much easier to carve out and stuff), but you could also do a two smaller ones if that's what you have.
Instant Oatmeal packets – This makes it so much easier to make the perfect baked apple stuffing volume, but if you don't have the packets, you can also use 1/3 cup quick cooking oats per serving (so 1 1/3 cups for four people). I have also made this with other packets of flavoured oatmeal like maple & brown sugar or apple & cinnamon and it's delish. If you opt for that, you can cut out the brown sugar in the filling.
Brown sugar- Feel free to swap in more maple, coconut sugar, white sugar, honey – whatever your sweetener is of choice.
Vegan butter or regular butter – This adds the moisture for the oat filling.
Pecans- This is semi-optional, but I do like the crunch and healthy fats.
Ground flax– Flax adds omega 3s, protein and fibre, and just ups the whole grain action in these baked apples. This definitely will ensure your kiddos are getting something really nutrient dense.
Raisins – I get that not everyone is a raisin lover, so feel free to swap in dried cranberries, cherries, or whatever else your family likes.
Maple syrup- This helps the tops get nice and caramelized and golden.
Apple cider or juice- This is optional as you can use water to help steam your apples, but it's nice to baste and cook your apples in flavour, rather than just plain water if you can. It also makes for a bit of a nice sauce for spooning on top if you'd like.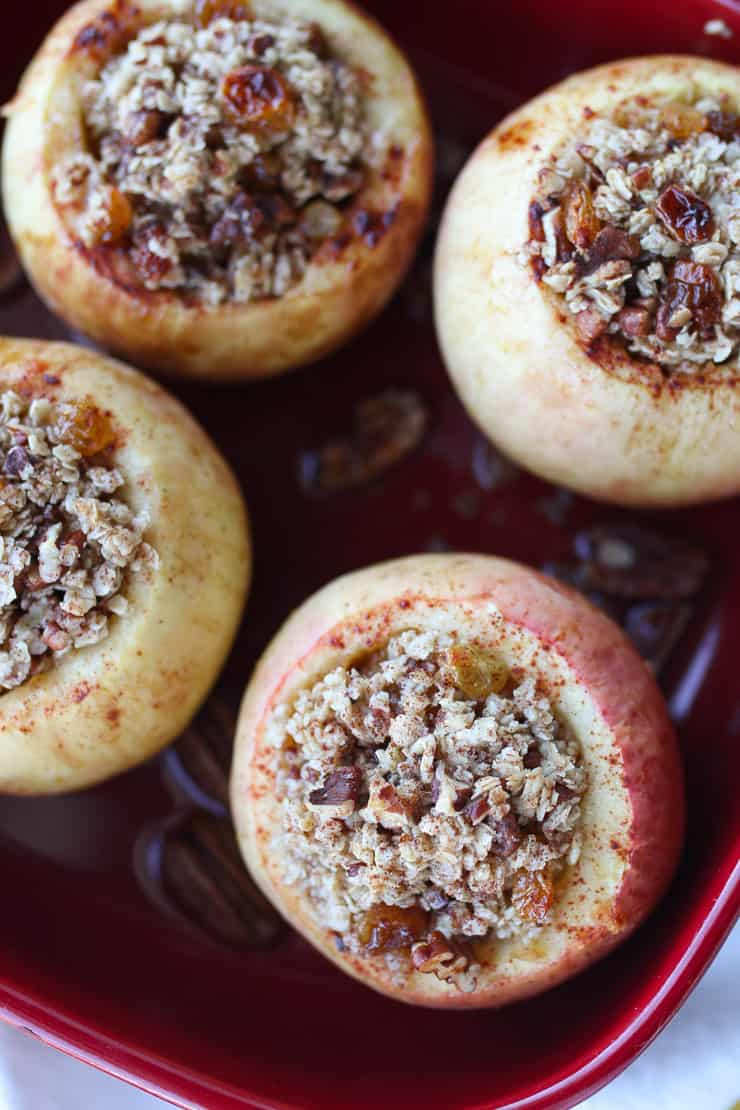 Flavour Variations for these baked apples
Like I said, there are a lot of ways you can make these baked apples your own, or just switch things up based on what you have on hand. These need to be an easy weekday dessert, breakfast or snack for you to want to make them regularly (and you'll want to make them regularly). Here are some ideas on how to modify this recipe.
Use flavoured instant oatmeal packets (ie. apple and cinnamon, maple and brown sugar, peaches and cream, etc.)
Use regular quick cooking oats (1/3 cup per packet in the recipe)
Use honey, maple syrup, coconut sugar, low calorie brown sugar alternative, white sugar, or molasses in place of brown sugar
Add almonds, walnuts, cashews, pine nuts, peanuts, pumpkin seeds, sunflower seeds in place of pecans
Add a spoonful of nut butter to the filling for extra flavour and healthy fats
Use hemp hearts, wheat bran or ground chia seeds instead of flax
Use dried cranberries, cherries, minced dates, minced apricots or minced prunes in place of raisins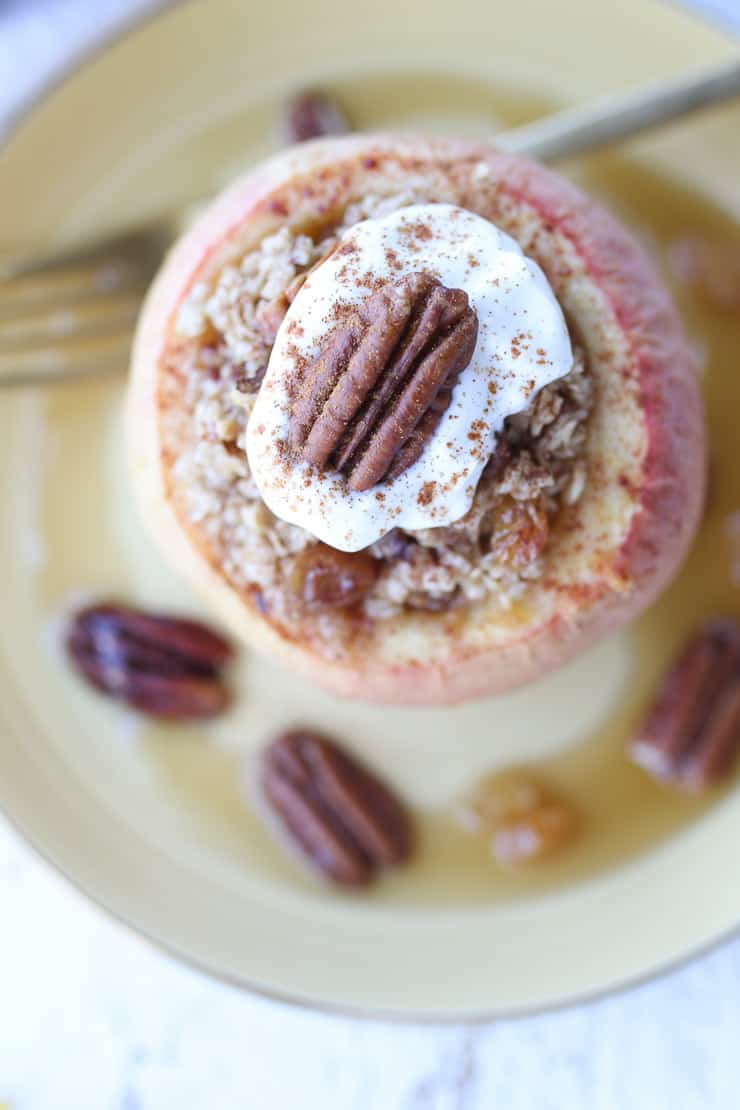 FAQ about this recipe
Here are some commonly asked questions about this recipe.
What can my kids do in the kitchen to help make these baked apples?
Kids will love getting involved making these apples. I recommend letting an adult do the carving of the apple insides, and then the kids can mix up the filling ingredients and help you stuff them back in.
Are these gluten free?
If you are sure to use gluten free oats, then this recipe is completely gluten free and safe for those with celiac and gluten intolerance.
Are these healthy baked apples vegan?
Yes, if you use vegan butter, these will be completely vegan.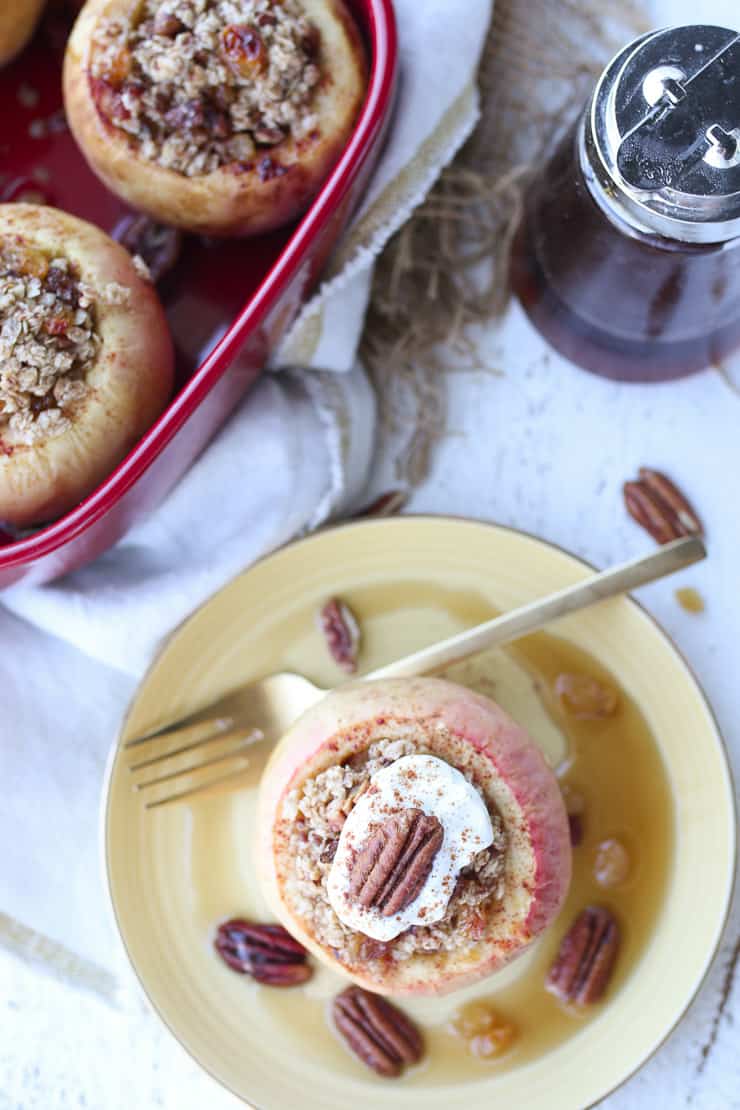 can i peel the apples?
If your kids don't like apple peel, then yes, go ahead and peel them before you bake them. I love the colour of the red baked apples, plus the extra fibre in the peel, but it's really not a big deal.
what are the best apples for this recipe?
You'll want to use a firm large apple – I like Honeycrisp, Jonagold, Cortland, Empire or Fuji best. But again, this is an easy versatile recipe, so use what you have. It's mainly important that the apples are all the same size so they cook evenly.
Can i make these into microwave baked apples?
To make these baked apples in the microwave (because let's be real, we don't all have time on a Tuesday night to bake them), pop them into a microwave safe dish (so not metal, likely pyrex), and cover the dish with a paper towel. Cook for 6 to 10 minutes, then check to see if they're cooked through. These won't get a crunchy bits like they would if baked, but you can always add some nuts on top.
What if i only have small apples?
You may not fit all this filling in 4 small apples, but you can just do more apples and adjust the cooking time a bit. You want a fork to go in easily but for the apples to still hold their shape. The most important thing is that the apples are all the same size.
Will these keep in the fridge if I batch prep some and how do I reheat them?
Yes, we keep them in the fridge for easy healthy breakfasts that will keep for 4 days in the fridge. The topping might not stay crunchy, but you can easily cut them in half and warm pieces up in the microwave for 30-45 seconds and serve them with yogurt.
Do you have any other easy weeknight desserts?
I am all about making sweets super easy to pull off for family. Here are some of my favourite weeknight desserts.
No Bake Matcha Cheesecake Parfait
What are your go-to easy weeknight desserts? Leave me a comment below with your thoughts!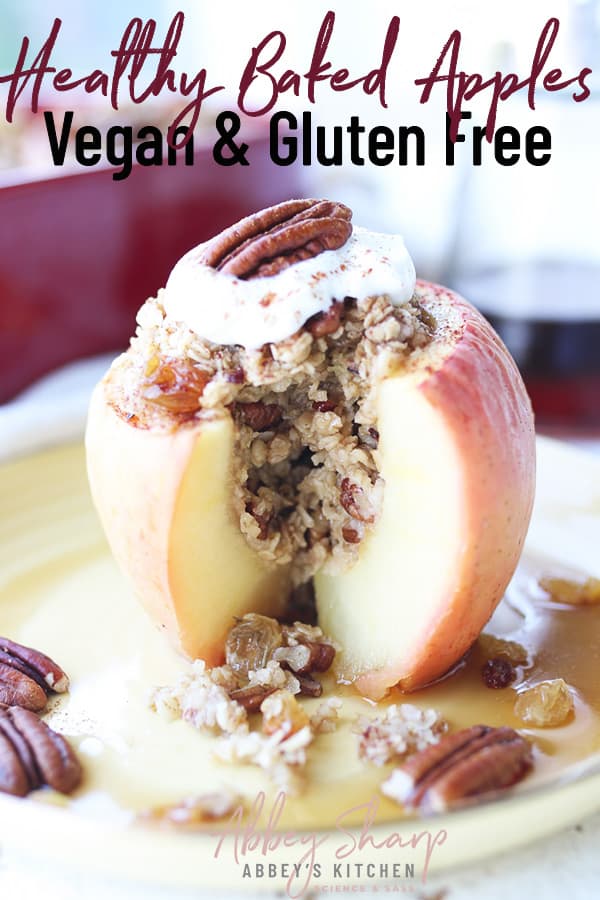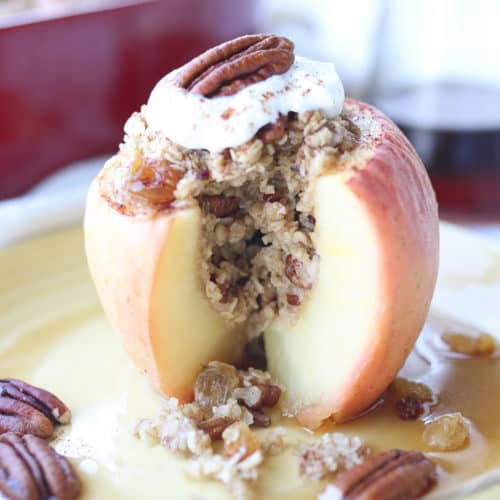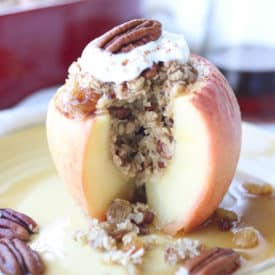 Easy Healthy Baked Apples
These are the best easy healthy baked apples for an easy to make, and nutrient dense dessert or snack for kids and adults alike. Plus, they're naturally vegan and gluten free!
Print
Pin
Rate
Ingredients
4

large apples

4

packets Regular Instant Oatmeal

gluten free, if needed

¼

c

brown sugar

¼

c

melted vegan butter or regular butter

¼

c

crushed pecans

2

tbsp

ground flax

¼

c

golden raisins

1

tsp

cinnamon

plus more for on top

Pinch

salt

¼

c

maple syrup

½

cup

apple cider

juice or water

½

tsp

cinnamon
Instructions
Preheat oven to 400 F.

Slice the top off of the apple so it's flat and core 2/3 of the way down until you remove all the seeds. Hollow out the apple allowing about 1/4" of apple. Place in a greased 8x8" square pan.

Mix together the oatmeal, sugar, butter, pecans, flax, raisins, cinnamon and salt. Stuff the apple holes. Drizzle with maple syrup and top with a sprinkle of cinnamon.

Pour the apple cider, juice or water into the bottom of the dish and mix in the extra cinnamon. Cover with foil and bake for 35-40 minutes or until tender when pricked. Uncover and bake for an additional 5-10 minutes to let the tops brown up. Serve with yogurt, whipped cream or ice cream.
Nutrition
Calories:
421
kcal
|
Carbohydrates:
67
g
|
Protein:
3
g
|
Fat:
19
g
|
Saturated Fat:
3
g
|
Sodium:
145
mg
|
Potassium:
423
mg
|
Fiber:
7
g
|
Sugar:
53
g
|
Vitamin A:
606
IU
|
Vitamin C:
9
mg
|
Calcium:
81
mg
|
Iron:
1
mg