This creamy vegan beet soup with apples & ginger is as delicious as it is beautiful, and totally perfect for a Valentine's Day dinner with your love.
Valentine's Day is coming, and if you're a woman and you're reading this you've probably already made reservations or built a menu, plus ordered your partner and kids a gift a month ago to give you lots of time to wrap it. If you're one of my male readers, you're probably like "It's Valentine's Day again, ALREADY?!"
Just me and my hubby? COOL.
Don't worry, I got you covered with this awesome creamy vegan beet soup with apples and ginger that is super easy to pull off (even for the non-chef), but also crazy beautiful in the bowl. I love beet soup in general (check out my recipe for yellow beet soup here), but this one is particularly sweet and warm thanks to the addition of apples, ginger and apple pie spice.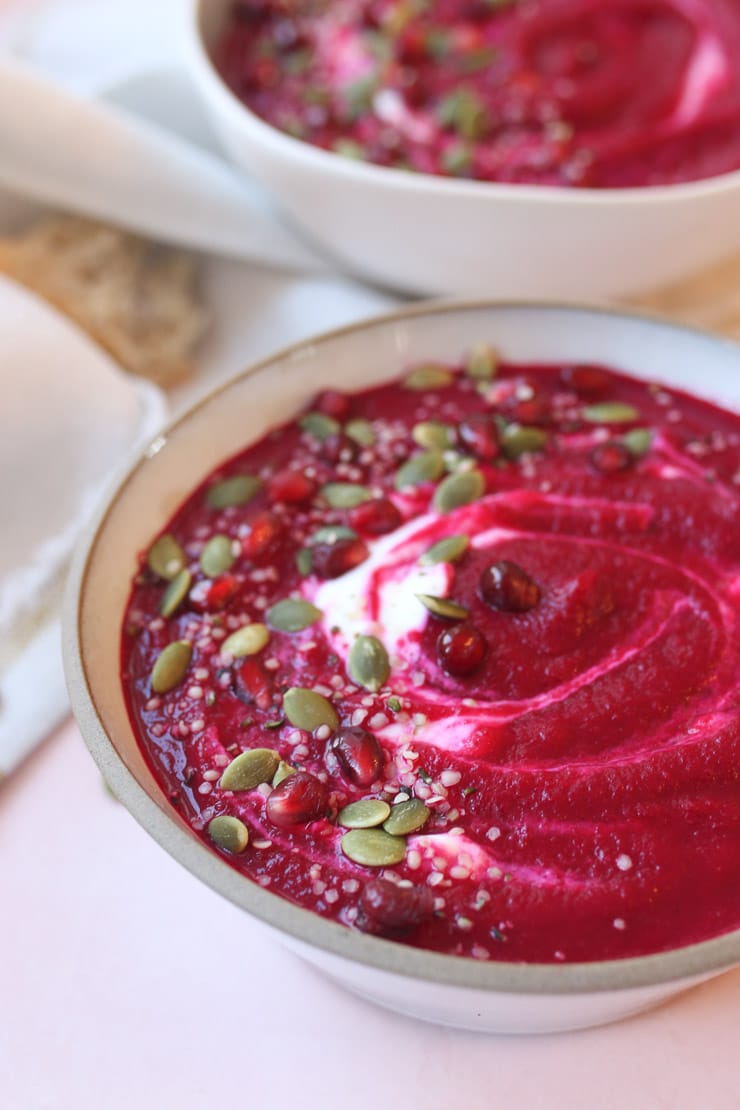 What do I need to make this creamy vegan beet soup with apples & ginger?
This vegan beet soup is surprisingly simple. All you will need is:
Olive oil
Onion
Garlic
Ginger
Red beets
Apples
Low sodium vegetable broth
Apple pie spice
Lite coconut milk
how do i make this plant based apple and beet soup?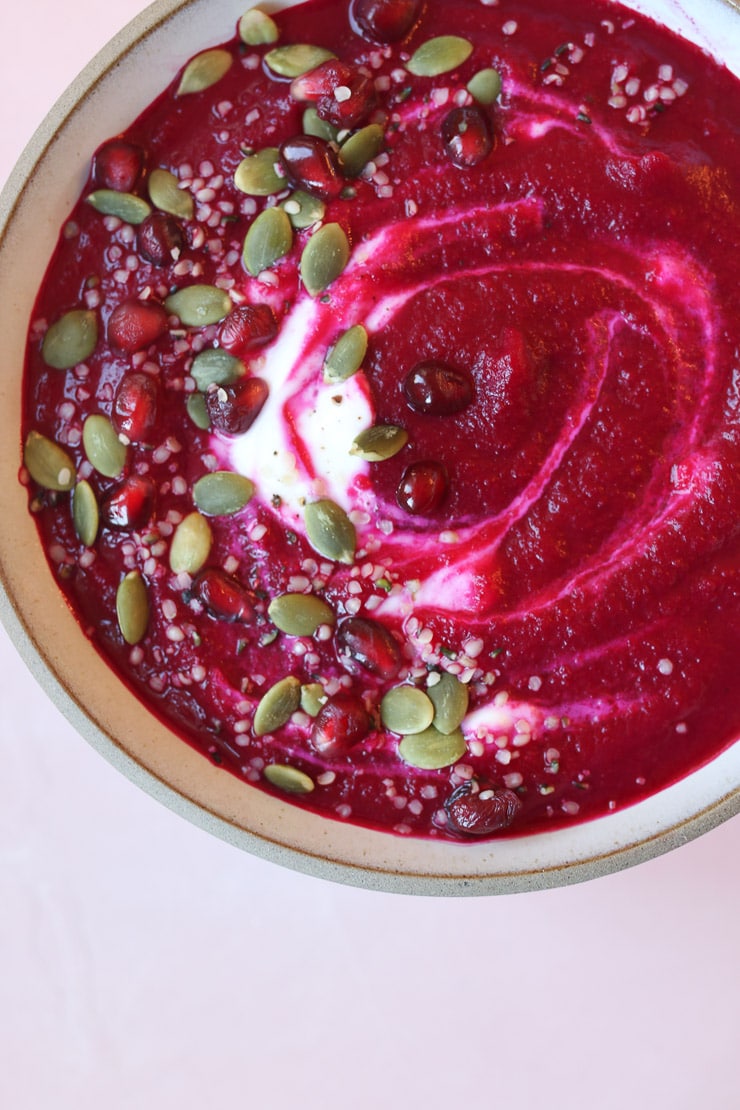 To make this creamy vegan beet soup, you'll start by cooking the onion, garlic and ginger in olive oil, then adding in a bunch of peeled finely diced beets, apples, broth and apple pie spice. I do find that it's best to finely dice the beets so they don't take forever to cook. Let this cook until the beets are soft, then puree in the food processor or blender.
Transfer back to the pot and stir in the cream on the top of the can of coconut milk, and as much of the coconut water you would like, depending on how thick you like it. I usually end up using most, if not all of the can. Season with the beet apple soup with salt and pepper and garnish with coconut yogurt, pumpkin seeds and pomegranate arils.
what if i don't have apple pie spice?
I love these pre-made spice blends because they make baking and cooking so easy (check out this amazon affiliate link for apple pie spice). However, if you want to make it yourself, the recipe for apple pie spice is:
4 tablespoons ground cinnamon
1 1/2 teaspoons ground nutmeg
1/2 teaspoon ground allspice
1 teaspoon ground ginger
1 1/2 teaspoons ground cardamom
is this vegan beet soup kid-friendly?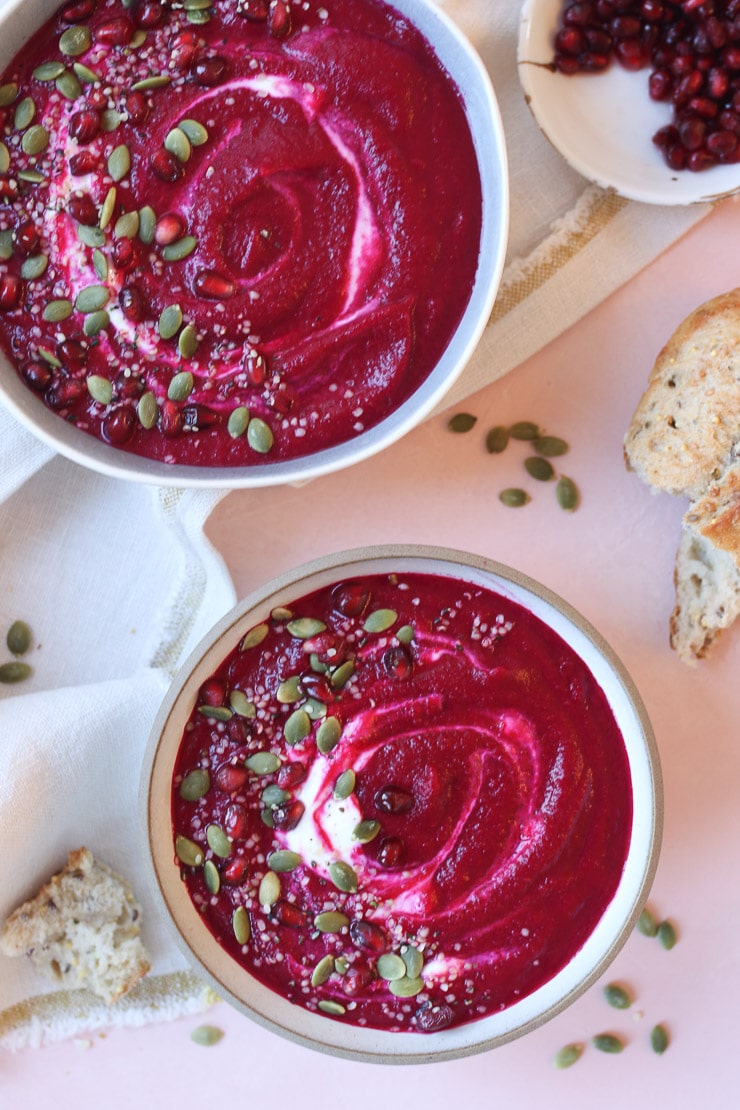 Yes! My son loves the natural sweetness of the beets and apple in this soup. I also find a lot of kids (especially girls, thanks to society's gendering of foods) love PINK foods, so this will be a huge hit with your whole family on Valentine's Day.
can i batch prep this apple and beet soup and freeze some of it for later?
Yes! I actually sometimes double the recipe for this vegan beet soup and place half of it into a large freezer bag laying FLAT in my freezer. this makes it way easier to stack so you don't have a bunch of mis-shapen freezer bags taking up space.
why would this vegan soup be appropriate for valentine's day?
Why wouldn't it be? First of all, it's PINK. I could stop there, but it's also rich in antioxidants which of course are great for your heart- and isn't taking care of your loved ones what Valentine's Day is really about?!
do you have any other vegan recipes that would be great for Valentine's day?
You bet! Here are some more great Vegan Valentine's Day recipes that would compliment that beautiful vegan beet and apple soup nicely.
VEGAN AVOCADO ZUCCHINI NOODLES WITH PESTO
PISTACHIO PARSLEY VEGAN PESTO PASTA SALAD
VEGAN UNSTUFFED CABBAGE ROLLS IN A BOWL
VEGAN GUACAMOLE STUFFED SWEET POTATOES WITH SPICY CHICKPEAS
What are you going to be doing or serving for Valentine's Day? Do you go out for dinner or stay in and cook? Leave me a comment below!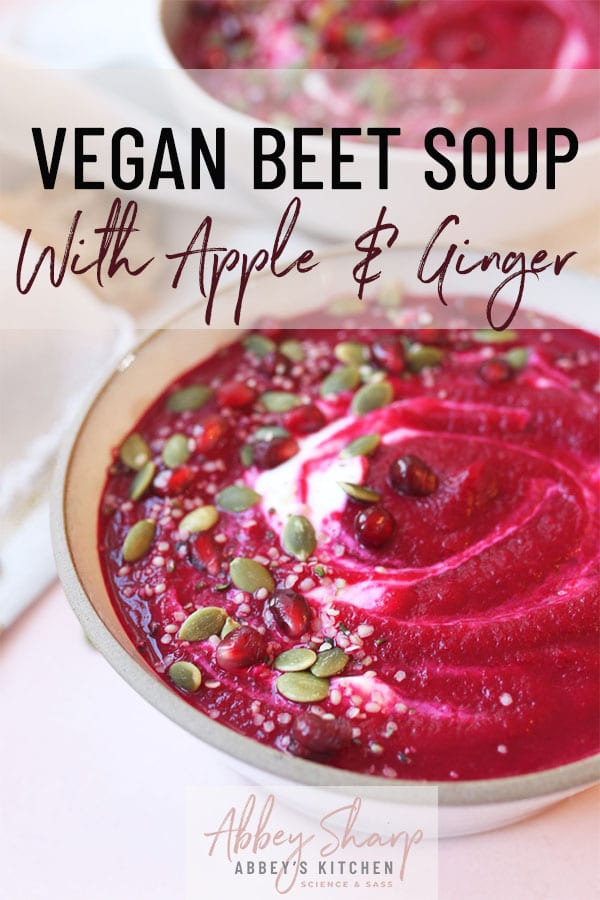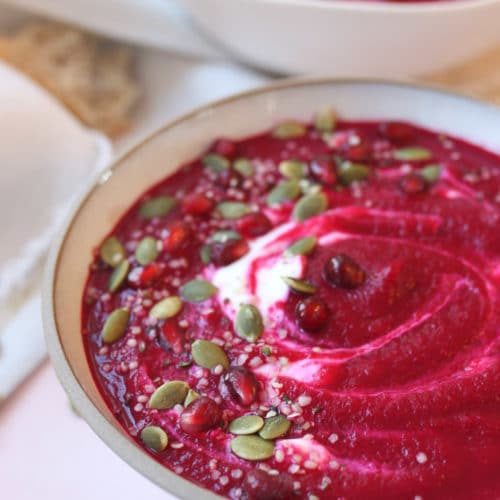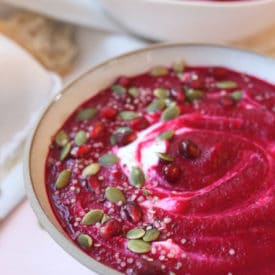 Creamy Vegan Beet Soup with Apples & Ginger
This creamy vegan beet soup with apples & ginger is as delicious as it is beautiful, and totally perfect for a Valentine's Day dinner with your love.
Print
Pin
Rate
Ingredients
To top:
Coconut yogurt or additional coconut milk or cream

Pumpkin seeds

Pomegranate arils
Instructions
To a large soup pot, heat the olive oil over medium heat. Add the onion, garlic and ginger and saute until fragrant and soft, about 3 minutes.

Add the beets, apples, vegetable broth, and apple pie spice, cover and cook for 40 minutes or until the beets are soft.

Add the cream from the top of the coconut milk can, along with ¼ cup of the coconut water to start. Transfer to a blender (or puree with a hand blender) until very smooth. If too thick, add more of the coconut water and season with salt and pepper, to taste.
Nutrition
Calories:
122
kcal
|
Carbohydrates:
28
g
|
Protein:
3
g
|
Fat:
1
g
|
Saturated Fat:
1
g
|
Sodium:
1333
mg
|
Potassium:
512
mg
|
Fiber:
6
g
|
Sugar:
18
g
|
Vitamin A:
714
IU
|
Vitamin C:
11
mg
|
Calcium:
32
mg
|
Iron:
1
mg
Updated on July 21st, 2020