This cheesy vegan soda bread is one of my new favourite healthy no yeast quick bread recipes because it's super flavourful, easy to make and doesn't require any rise time!
So a lot of us are still stuck in this crazy pandemic, and that may mean finding certain pantry staples is still a challenge. Yeast apparently has become one of those hot commodities, and as a result, I created a yeast free, flour free focaccia recipe on my blog that has been a total hit. I then got experimenting with other non yeast breads and the popular one is a classic Irish Soda Bread.
What is Soda Bread?
Soda bread is a traditional quick bread that doesn't use any yeast to leaven the bread, but rather, relies on baking soda and buttermilk, instead.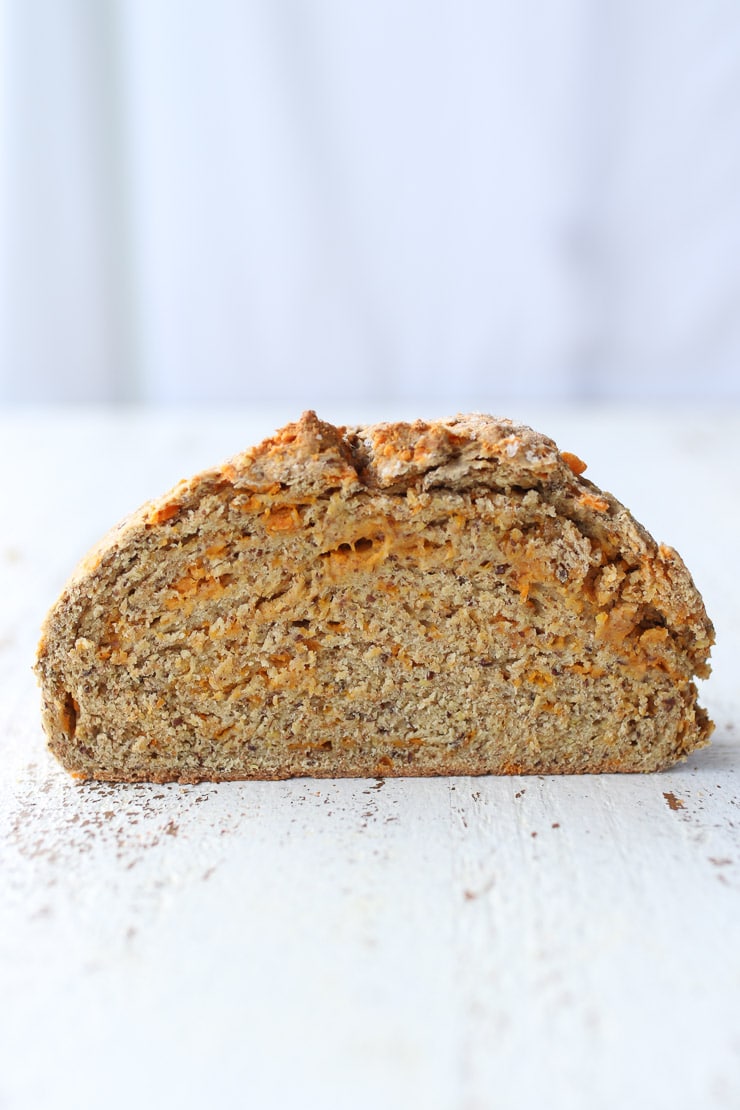 how have i veganized soda bread?
So instead of typical buttermilk, I actually use non-dairy almond milk mixed with some apple cider vinegar to "thicken" the milk naturally. I also use a combination of vegan shredded cheese and nutritional yeast to add cheesy flavour instead of using dairy cheese.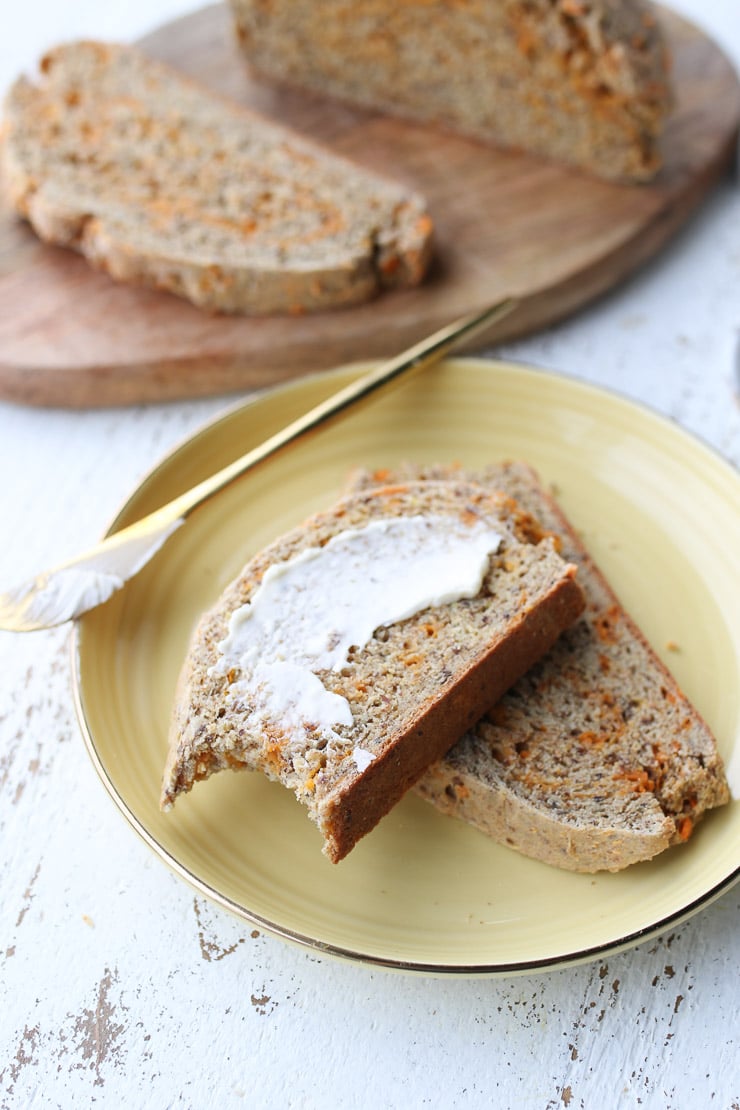 Key Ingredients in this cheesy vegan soda bread
Whole Wheat Flour– I like the natural nuttiness this brings, plus of course it boosts up the nutrition.
All Purpose Flour– I do recommend using a combination of whole wheat and all purpose, because I find if you go straight up wheat, the bread can taste a little dry.
Ground Flax – This adds a nice hearty texture and also lots of omega 3, fibre and protein!
Vegan Buttermilk – A simple combination of non-dairy milk and apple cider vinegar (you can swap in lemon juice or rice vinegar) that is allowed to sit for 5 minutes to thicken up like buttermilk. Buttermilk is actually naturally low in fat, it's just that because of the acid added to it, it's thick like butter.
Baking Soda – This works with the vegan buttermilk to give the bread a nice rise.
Fortified Nutritional Yeast– This adds a ton of protein and vitamin B12 plus a naturally cheesy flavour.
Vegan Cheese Shreds – This gives you a little colour and also more salty savoury cheesy flavour.
Vegan Butter– This gives this bread a buttery biscuit like texture. SO SO GOOD.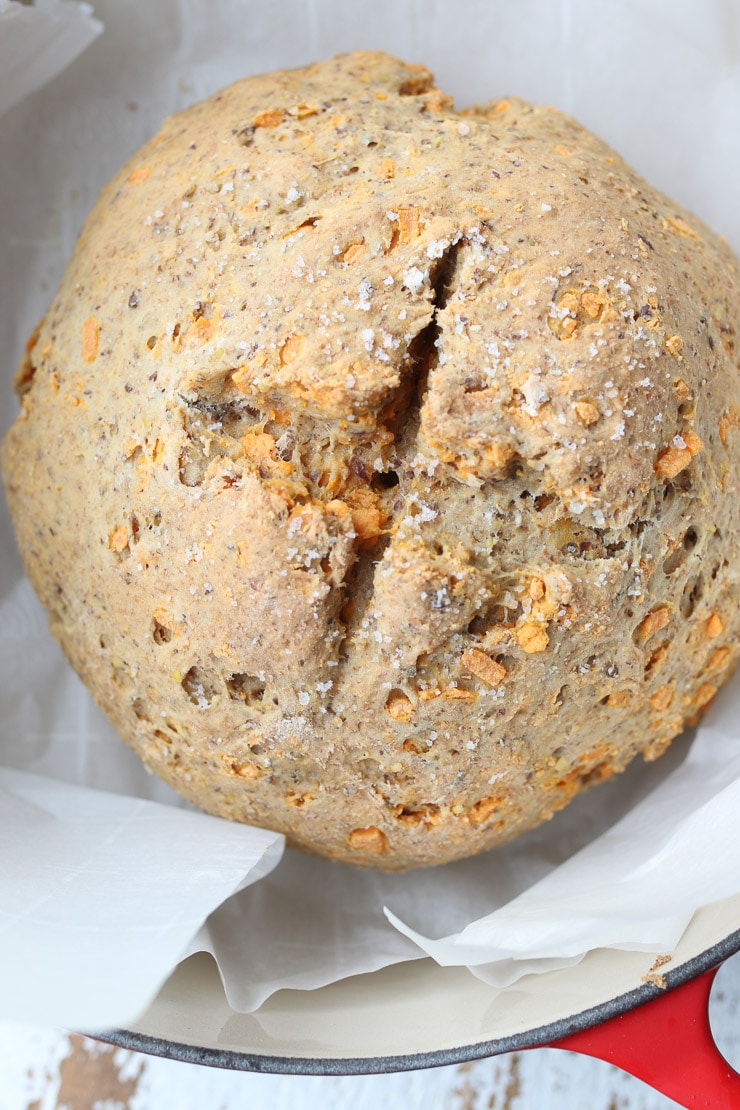 FAQ about this recipe
Here are some of the most popular questions about how to nail this cheesy vegan soda bread recipe.
Can I make this non vegan and use regular cheese and butter?
Absolutely. Feel free to use whatever you have on hand.
How do I know if the soda bread is cooked through?
There are a few tell tail signs you can look out for. One is that the X looks dry and no longer wet. Another is that when you stick a toothpick into the centre it comes out clean (like any good quick bread). I like to get technical and take the bread's temperature – it should read 205 F.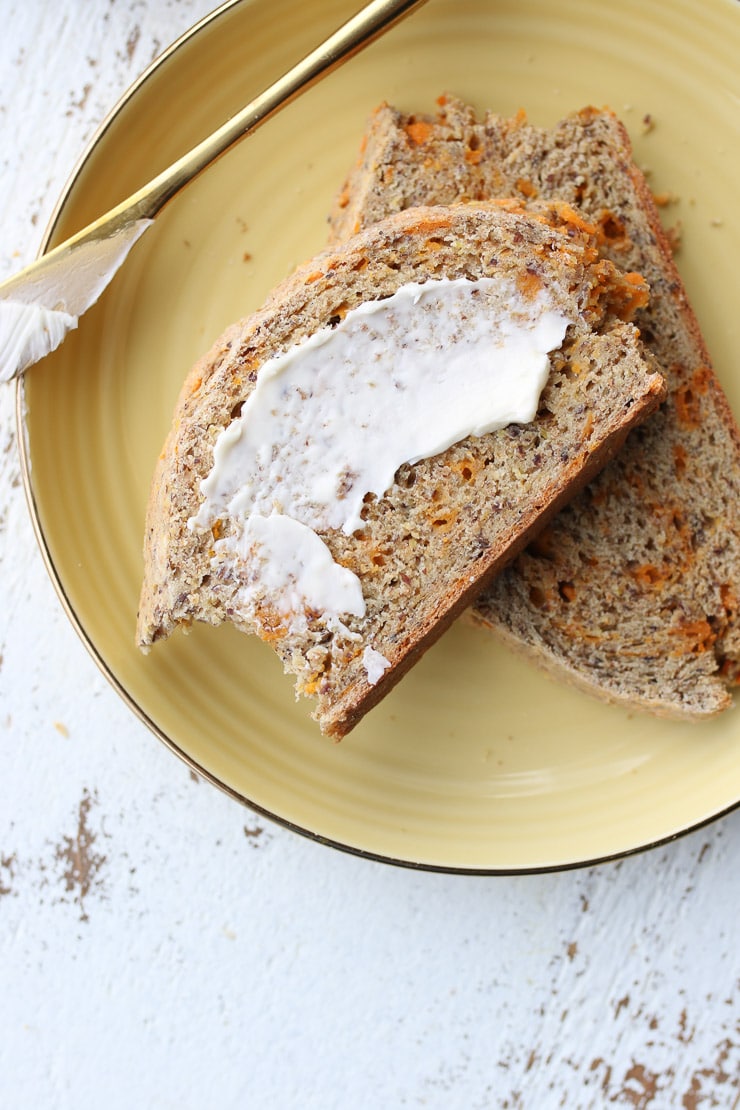 Is this bread kid-friendly?
Absolutely. My kiddo LOVED this bread's cheesy flavour and I loved that it had the extra protein, fibre and healthy fats from whole wheat flour, flax and nutritional yeast. I served it simply with a little cream cheese or butter on top, sprinkled with some hemp hearts for even more nutrition.
Do you have any other bread recipes on the blog?
If you are liking this easy vegan cheese soda bread have this great flax focaccia recipe you will LOVE. It's flour free and yeast free, and packed with good nutrition.
What are some of your favourite easy vegan no yeast bread recipes? Have you tried making soda bread in lockdown? Leave me a comment below with your thoughts!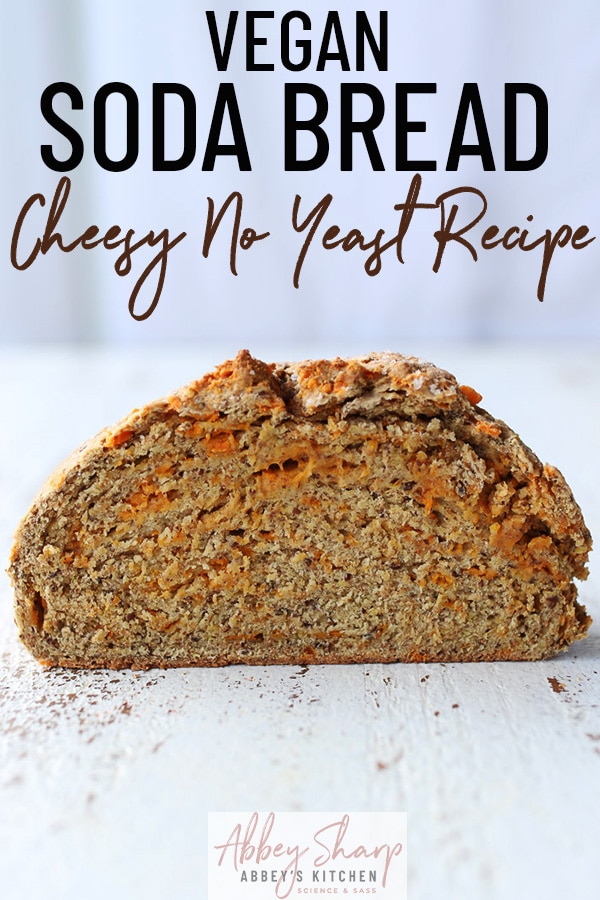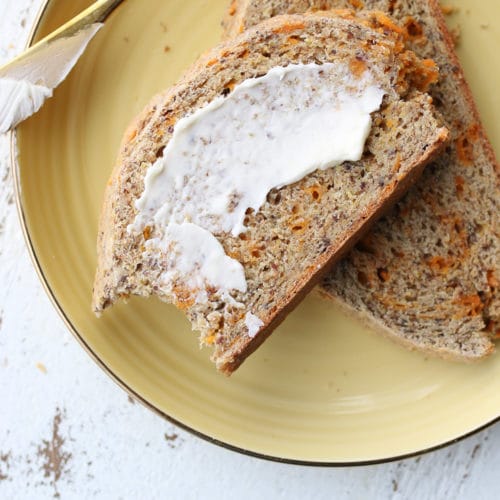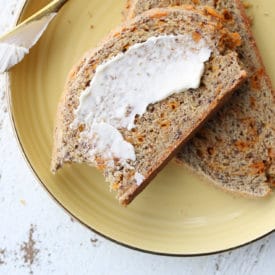 Cheesy Vegan Soda Bread
This cheesy vegan soda bread is one of my new favourite healthy no yeast quick bread recipes because it's super flavourful, easy to make and doesn't require any rise time!
Print
Pin
Rate
Ingredients
1

cup

almond milk + 1 tbsp apple cider vinegar

1

cup

whole wheat flour

plus more for kneeding

3/4

cup

all purpose flour

¼

cup

ground flaxseed

½

cup

fortified nutritional yeast

2

tbsp

brown sugar

½

tsp

baking soda

½

tsp

salt

¼

cup

vegan butter cut into pieces

¾

c

shredded vegan orange cheese
Instructions
Preheat oven to 375 degrees Fahrenheit and place a piece of parchment paper into a round cast iron skillet with high sides or a cake pan.

Mix the almond milk and vinegar and let sit for 5 minutes to make "buttermilk".

In a large bowl, mix the whole wheat flour, all purpose flour, flax, nutritional yeast, sugar, baking soda, and salt to a large bowl. Mix together until combined.

Cut the vegan butter into the dry ingredients and rub your finger and thumb together to get small pieces of butter coated in the flour.

Add buttermilk and cheese and use your hands until they're well incorporated. This will be a very wet dough!

Sprinkle 1/4 cup whole wheat flour to your work surface and turn the dough out onto the surface. Sprinkle another 1-2 tablespoons of flour on top of the dough. Then fold the dough onto itself like a book and add another tablespoon or so of flour as you kneed. Kneed for another 5 minutes until it's no longer super sticky (it will still be a moist flour, but you want it to stop sticking to the surface with every turn.) Fold corners under to make a ball and set the ball in the cast iron. Cut a X on the top of the circle.

Bake for about 40-45 minutes, or until golden brown and a toothpick inserted into the middle comes out clean.

Remove from oven and place the loaf on a rack to cool. Slice and serve with vegan butter or vegan cream cheese.
Nutrition
Calories:
148
kcal
|
Carbohydrates:
19
g
|
Protein:
4
g
|
Fat:
7
g
|
Saturated Fat:
1
g
|
Sodium:
279
mg
|
Potassium:
108
mg
|
Fiber:
3
g
|
Sugar:
2
g
|
Vitamin A:
180
IU
|
Calcium:
45
mg
|
Iron:
1
mg