A controversial topic is raising a baby on a vegan diet. Today we are going to answer the question are vegan milk substitutes safe for babies who don't drink cow's milk? And if so, what's the best plant based milk to buy for baby?
Raising a Vegan Baby in the News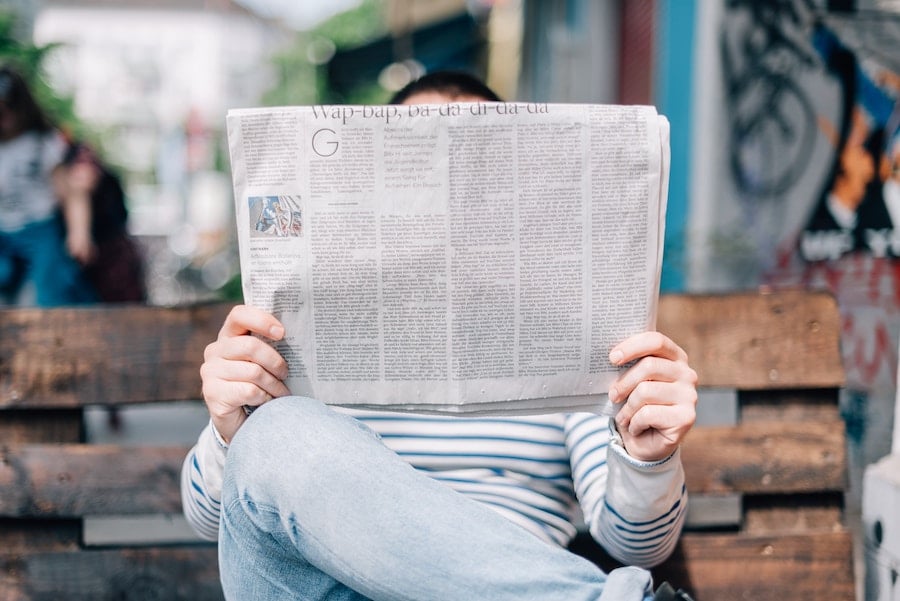 I'm in a lot of mom groups, and one of the controversial topics I see pop up in my feed is about raising a vegan baby. We read stories about plant-based babies being hospitalized and removed from their parent's care and wonder if there are real dangers in cutting out dairy and meat at such a young age. While these are extreme cases and are likely a rarity, we unfortunately don't have much legitimate research out there to evaluate the health outcomes of milk substitutes in babies. But what do the official recommendations say?
Current Recommendations on Vegan Milk Substitutes for Babies
It's recommended that baby transition to whole (3.25% fat) milk at one year of age and to avoid any skim or partly skim milk before 2 years old. It's also currently recommended that parents avoid giving fortified soy milk until 2 years of age. Rice or nut beverages should also not be used as child's main milk source as these milks are much lower in calories and fat.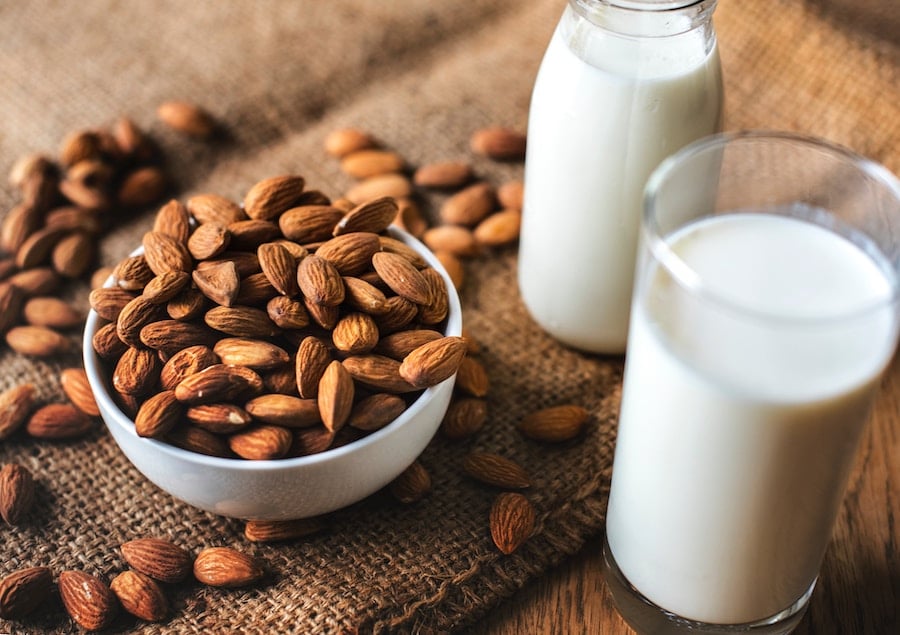 In the United States, the  position of the American Dietetic Association (ADA) is that appropriately planned vegetarian diets, including vegan diets are healthful, nutritionally adequate and may provide health benefits. These diets are appropriate for all stages of life from pregnancy to older adults (including infancy). Like in Canada, the ADA recommends that for the first six months all babies should be exclusively breastfed and if breastfeeding is stopped, the use of an iron-fortified formula (soy formula for vegans) be introduced. Between 1 and 2 years of age, vegan infants should continue to be given soy formula. Fortified soy milk is a good alternative for after the 2 year mark, but not before then. As with in Canada, milk alternatives like soy, rice, almond, hemp and others are not recommended in first or second year of life as they don't offer enough calories and fat to be considered nutritionally adequate.
Comparing the Nutrient Breakdown of Milk and Vegan Milk Substitutes

Unclear where these recommendations come from? Let's take a look at the nutritional composition of some of the different milks on store shelves.
Nutrition Breakdown of Cow's Milk vs. Vegan Milk Alternatives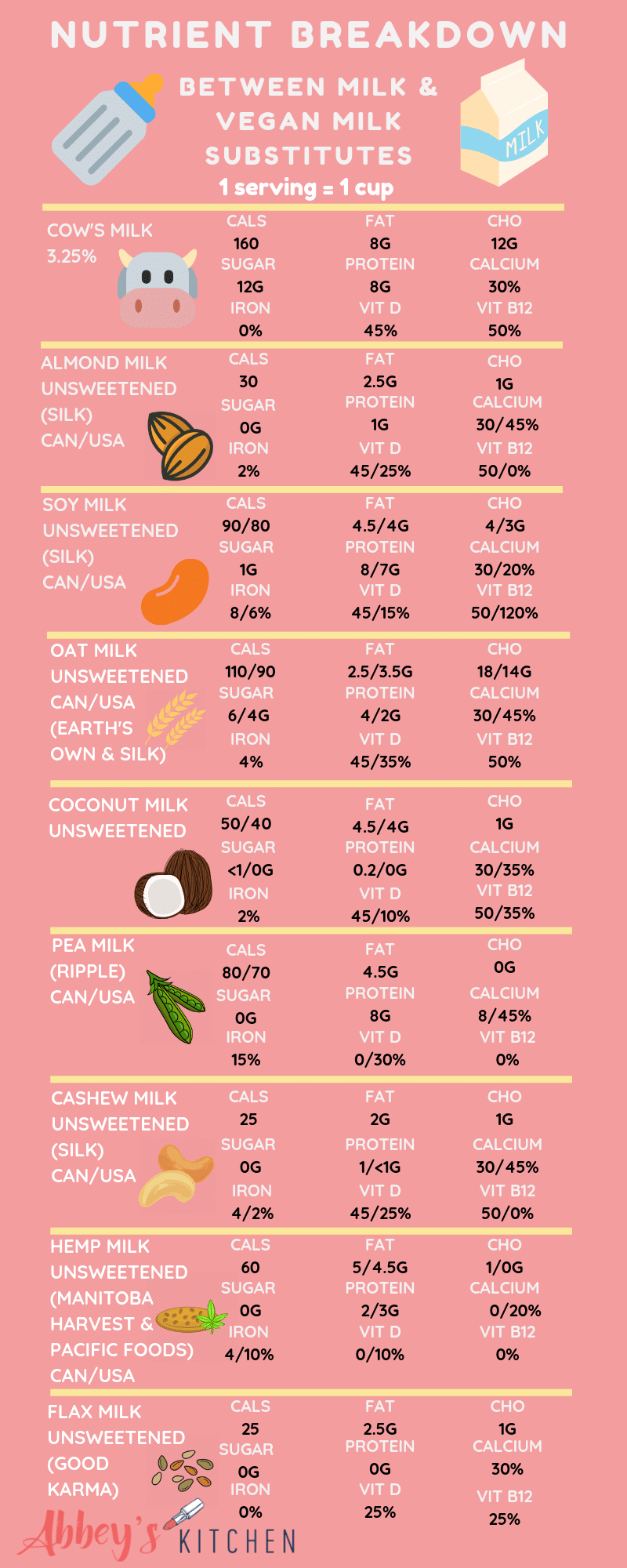 Cow's milk is currently considered the gold standard for babies at 12 months thanks to its unique caloric and nutrient content. One serving of 3.25% milk contains:
160 calories
8 grams of protein
8 grams of fat
Calcium, Vitamin D and Vitamin B12 for a growing babe
These nutrients are particularly important for babies as they grow. Fat is important for brain development, protein for muscles, Vitamin D and Calcium for bones, and adequate Vitamin B12 is key for preventing failure to thrive. If we look carefully at the list above, fortified soy milk is the closest vegan substitute to cow's milk with similar amounts of protein, calcium, vitamin D and Vitamin B12. It's also readily available so it's an easy recommendation to make for vegan families. The only nutrient of concern is that soy milk only has half the amount of fat as 3.25% cow's milk and is half the calories.
Pea milk (like Ripple), a new trendy option on store shelves, is less readily available for families, but it does have a comparable nutritional breakdown to cow's milk and provides slightly higher fat content than soy milk (4.5g vs 4g).
In Canada, however, Ripple is not fortified the way it is in the USA, so it is NOT equivalent to Soy milk and also not an appropriate substitution for cows milk.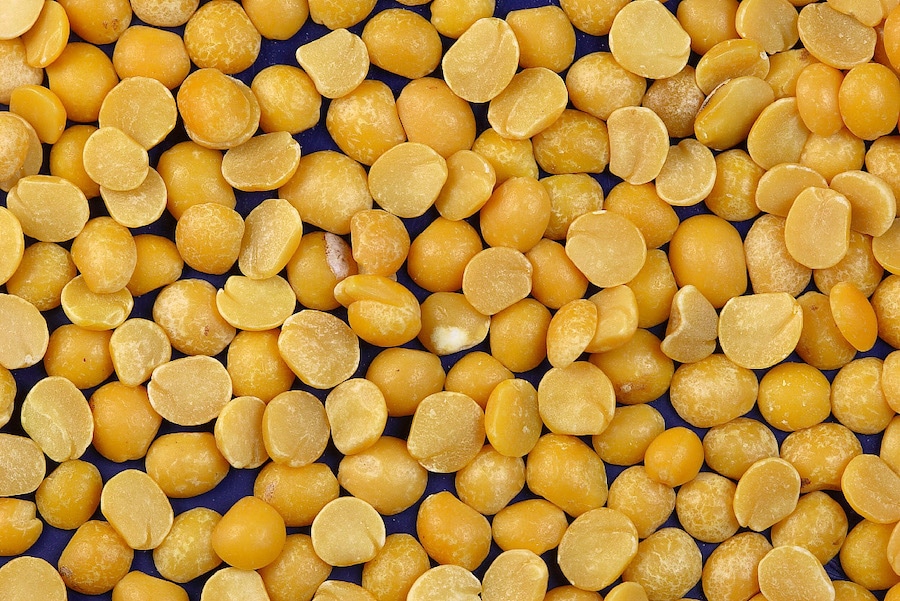 Other milk alternatives such as almond, oat, coconut, cashew, hemp and flax may be nice in your latte, but they're just not appropriate substitutes for babe as they're often too low in calories, fat, and protein to be an adequate swap. Another thing I want to mention is that we have very little evidence on what the long term consequences on growth and development are when you feed a baby milk substitutes. Why? Well, it's unethical and unsafe to test these hypotheses on babies so we don't have actual concrete evidence to say that this milk is better than this milk, so all we can really do is compare its nutrition.So can you give a vegan milk substitute at 12 months or do you have to wait until 2 years?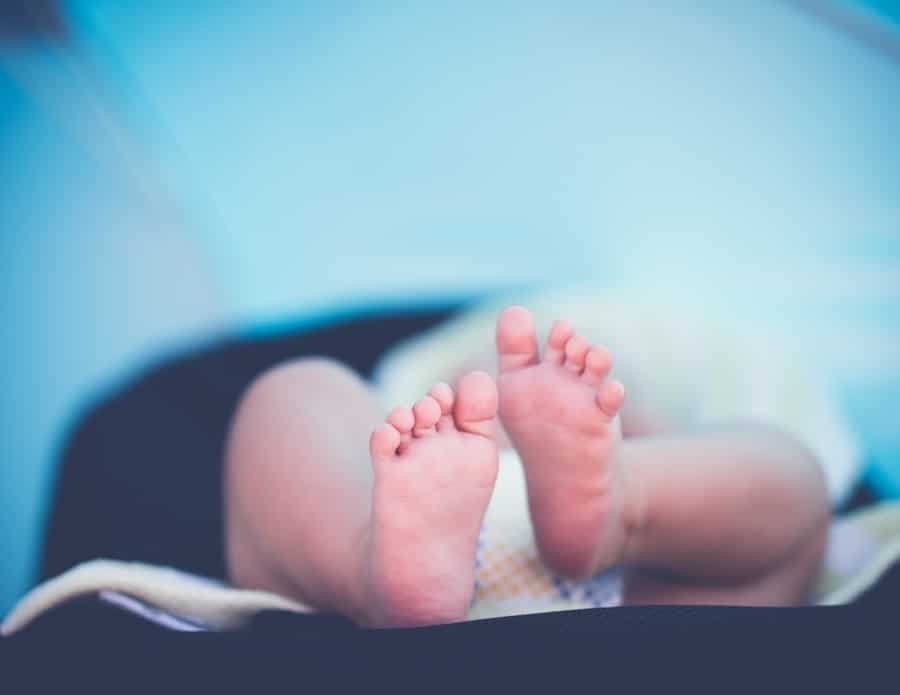 Here in Canada, the official guidelines are not to introduce soy milk, or other milk alternatives (like pea milk, for example) until at least 2 years. If you look again at the best vegan milk alternative (soy – pea in Canada is not fortified), the main difference between them and whole cows milk is the calories and fat. Soy contains about 1/2 the energy (calories) as whole cows milk. Since we don't suggest switching to 2% milk until baby's 2nd birthday, the official recommendation is also to keep baby on the higher calorie soy formula until 2 years of age, as well. But a lot of pediatric dietitians disagree with this recommendation, and feel that as long as the diet is assessed as a whole, there is no need to continue soy infant formula after 12 months. Plant based dietitian and infant nutrition expert Susan Macfarlane recommends that breastmilk or formula should be continued until infant reaches 12 months, and that after the one-year mark, fortified soy milk is an acceptable alternative to cow's milk for babies with normal growth. If you're worried about the lower amount of fat in the milk, you can simply add more oils and fats to your baby's solid food to compensate. As for soy infant formula after 1 years old, Susan suggests that it's usually unnecessary unless there are serious concerns about growth. Because this is against the current guidelines, these are choices that should really be made with the help of a pediatric dietitian and your child's doctor to make sure your baby's diet is nutritionally adequate without dairy or other animal products.
Bottom Line on the Safety of Vegan Milk Substitutes for Plant-Based Babies
Raising a baby vegan is a personal decision, and since we know that there are lots of benefits to eating more plant-based, I don't think it's necessarily a bad decision. Cow's milk can be an easy way to get protein, fat, and a variety of important minerals for growth, but it doesn't necessarily have to be essential. With the right planning, it's totally possible to create a nutritionally adequate diet for your growing babe. If you're thinking of raising a vegan baby, I highly suggest working with a registered dietitian to make sure your baby is getting all of the essential nutrients he or she needs.
If you liked this post, you may like:
Goat Milk vs Cow's Milk vs Sheep Milk for Babies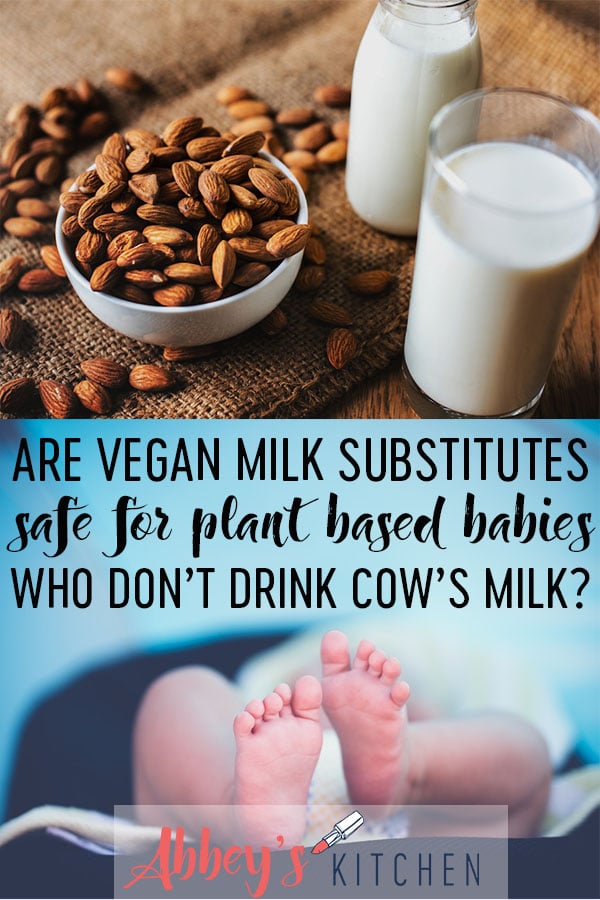 Contribution By: RD2B Hannah Wilson
Updated on October 19th, 2020