Here I share a simple breakfast, lunch, and dinner menu with this baby led weaning meal planner and guide to make BLW for your babies and toddlers a breeze!
If you've been following along in my baby led weaning journey on my Instagram stories, you know Baby E has been getting a wide range of delicious foods on the regular. In fact, we are officially at 122 different foods as of this week and he isn't even a year yet! So if you have missed my beginners guide to BLW, I highly recommend checking it out here. That will give you some insight on some of the benefits, safety precautions, and how to prepare foods appropriately to make it safe and easy to eat using BLW principals. I've also got some insight on how to introduce allergens you can check that out here.
But now, let's get to the important question – WHAT do I serve my baby if I'm trying to make sure they are getting a balanced meal using BLW (baby led weaning) techniques?
Baby Led Weaning Easy Meal Planner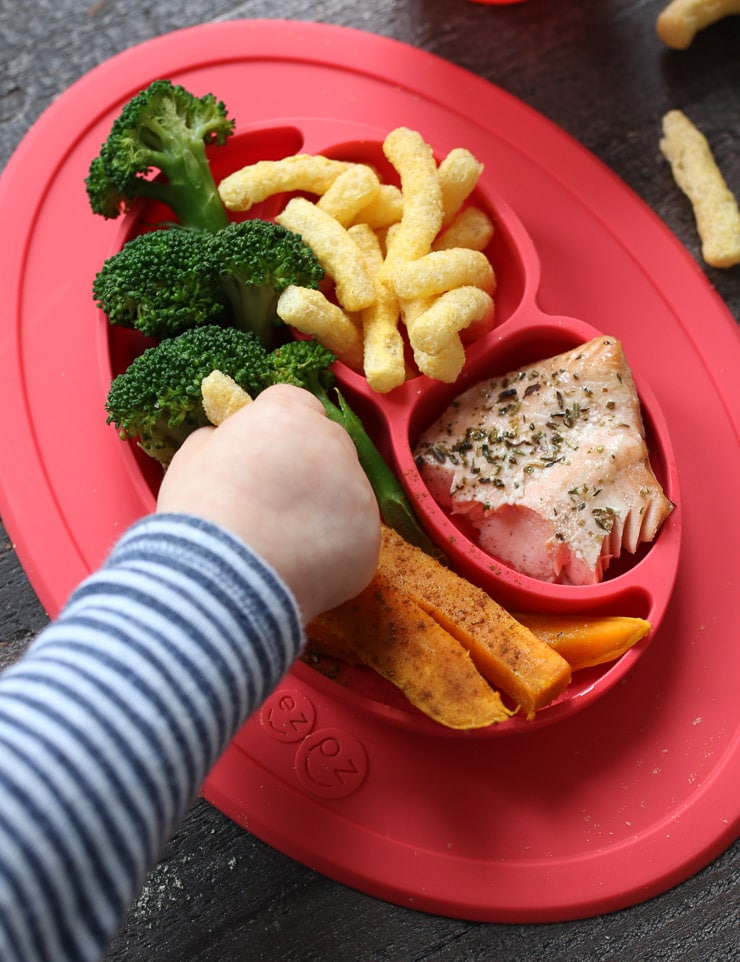 So here's the secret on baby led weaning there aren't any hard and fast rules. Okay, so you don't want to give a new eater a round hard food like a grape might want to add some other choking hazards in here, or honey before one, and you do want to limit added salt and sugar, but the beauty of baby led weaning is that babe eats what you're eating, albeit with some modifications. However, if you're like me, you like a little structure, so I developed an easy meal planner to help families starting solids feel confident their kid is getting enough of the good stuff.
Here's the easy peasy gist. At each meal, I aim for:
Vegetables and/or fruit
Whole grains or starchy foods
Protein
Healthy Fats
And at least one source of iron.
Babies under 1 year need about 11 mg of iron (stay tuned for an entire post on what this looks like soon). I know this can seem daunting when you see how much of the food you serve ends up on the floor. So typically, I like to serve two sources of iron so that if one ends up going straight into my dog Poppy's mouth, I have a second shot. And hey, even if they both end up getting chucked, I try not to stress. We need to trust our baby's eating intuition and let them be the guide in this process even if it means our furry friends gain a little weight.
So here's a sample breakfast, lunch, and dinner menu using my baby led weaning easy meal planner as a guide.
Baby Led Weaning Breakfast Menu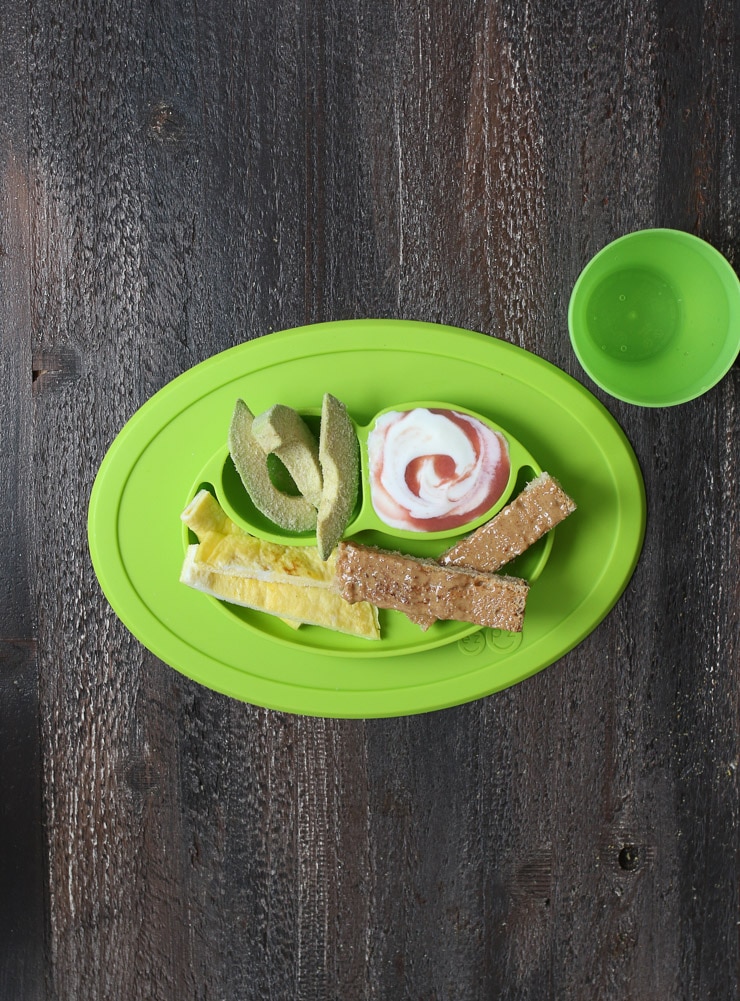 So here I'm serving avocado that I cut into strips so it's easy for Baby E to pick it up, but since it tends to be a bit slippery, I rolled it in a bit of Baby Gourmet Ancient Grain Blend. Not only does that add iron and B vitamins, but it also gives Baby E some traction so it doesn't just jump out of his hand. I'm a big fan of Baby Gourmet products in general because they have no fillers, added sugars, or salts, or artificial preservatives of any kind, so I feel really good–as a mom and dietitian–about serving them to Baby E.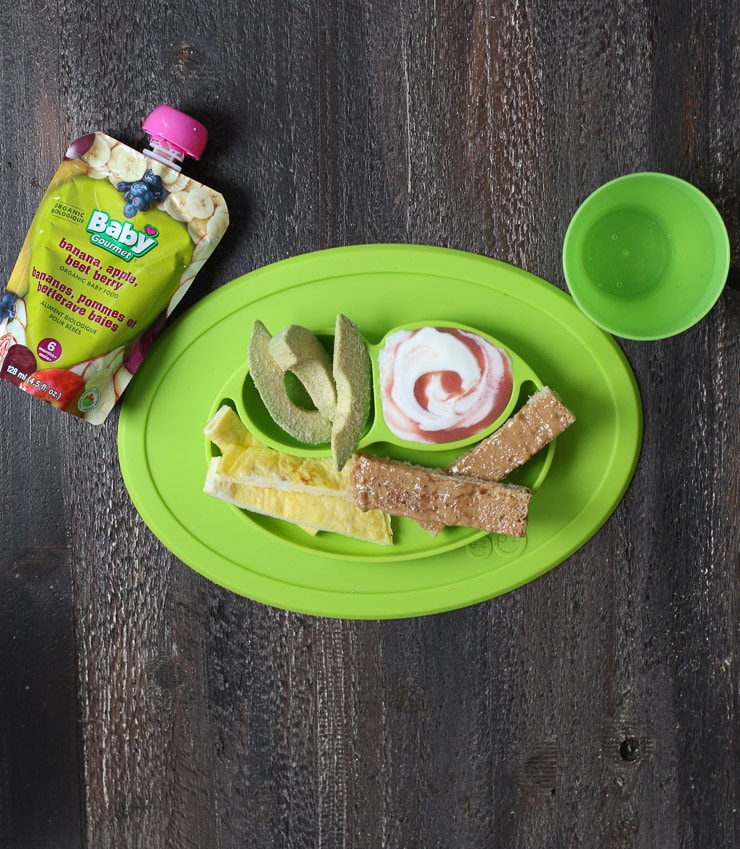 Next, I'm doing some plain full-fat Greek yogurt to add protein and calcium. To add some natural sweetness I like adding a squirt of Baby Gourmet Apple, Sweet Potato and Berry Swirl (his fave!) While it does get messy, we are working on Baby E's spoon skills, so I pre-load a bit of yogurt onto a spoon and let him self-feed.
Another favourite is whole grain toast spread with a thin layer of natural peanut butter. To keep it manageable, I cut it into small strips that easily fit in his hands.
And finally, for iron and protein, I've got a quick little egg omelet that I, again, cut into strips for easy grabbing. For some reason, omelet eggs go over way better with Baby E than scrambled in our house, but feel free to switch it up to see what works best!
So let's take a look:
Avocado – Fruit and Vegetables, Healthy Fat
Toast Strips with Peanut Butter- Whole Grain, Iron, Protein, Healthy Fat
Omelet Strips – Iron, Protein
Yoghurt & Fruit Puree – Fruit and Vegetables, Protein
Baby Led Weaning Lunch Menu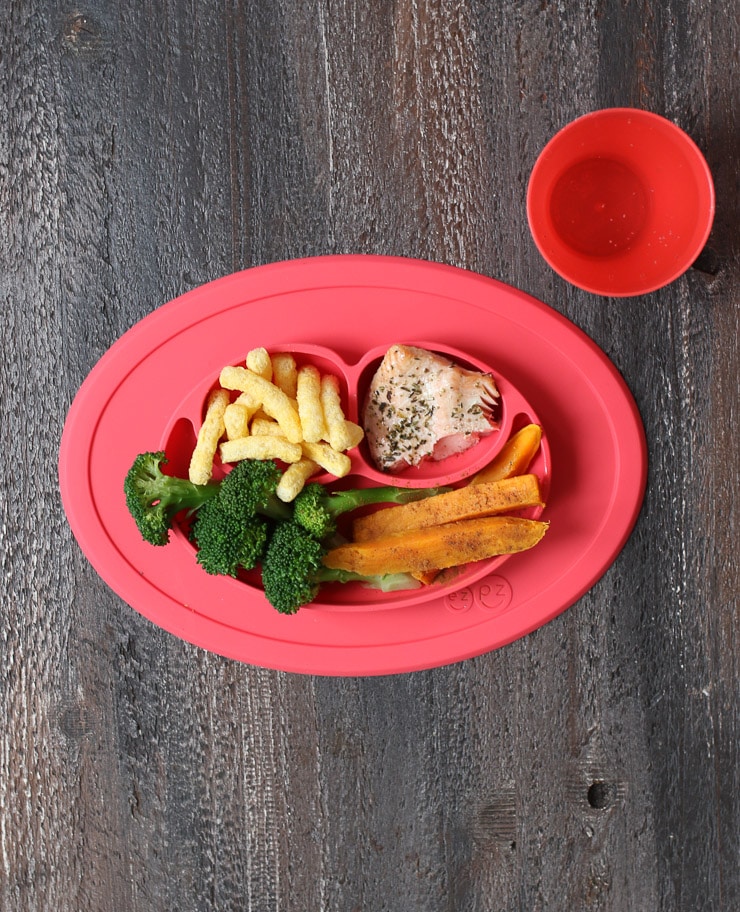 For lunch, one of Baby E's favourite foods is broccoli. I steam them until they're soft enough that they could be mashed with his gums and then cut them with a bit of stem so he has a little handle to pick up.
I also have some sweet potato that I baked whole, cut into spears and sprinkle with little pinch of cinnamon instead of sugar or salt.
Next, I'm serving a handful of Baby Gourmet Organic "Carrot Sticks†Finger Foods, made with Lentil and Chickpeas! Baby E loves these both as a part of meals, and for on-the-go snacks, and I love them too, because they're packed with plant-based protein, iron, and tummy friendly probiotics with no added sugar or salt. They're also a perfect finger shape so they're great for self-feeders.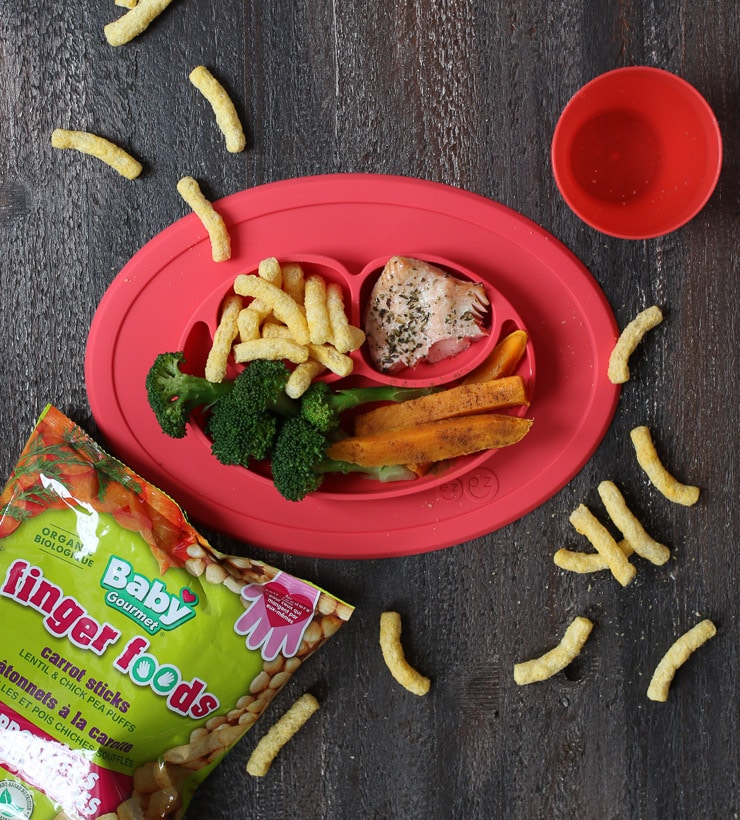 Finally, I batch cooked some salmon that I seasoned with dried thyme and olive oil and just made sure was free of any tiny bones before giving some chunks to Baby E.
Let's run through the tally.
Broccoli – Fruit and Vegetables
Baby Gourmet Carrot Sticks – Iron, Protein
Sweet Potato- Fruit and Vegetables, Starch
Salmon – Iron, Protein, Healthy Fat
Baby Led Weaning Dinner Menu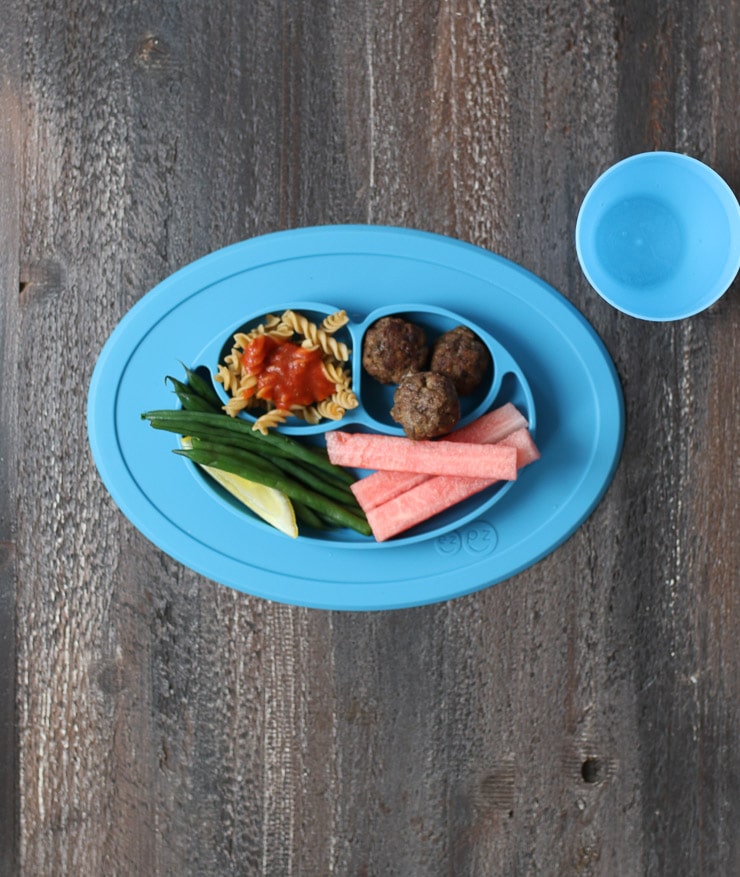 Finally, let's do dinner BLW style. We were having an Italian themed dinner in my house this night, so I just modified our meal to be appropriate for Baby E.
Tonight I've got some green beans that I've trimmed and steamed until very tender. I usually add a little lemon for flavour so I can avoid added salt for my little man. He has so much fun trying to aim these into his mouth.
I also made some mini beef meatballs with eggs, iron-fortified Baby Gourmet Tasty Smooth Oatmeal cereal, dried oregano, medium ground beef and no added salt. If you're making a big batch of meatballs, just put a bit aside for babe and season your own batch.
To go with it, I'm serving some fortified whole grain fusilli pasta with a little homemade tomato sauce on top.
And to finish off the night, I'm doing one of his favourites- fresh watermelon. I usually cut these into longer finger-like shapes. You can also serve it with the rind if your baby is having a hard time with their grip.
Green Beans – Fruit and Vegetables
Watermelon- Fruit and Vegetables
Pasta & Tomato Sauce – Iron, Fruit and Vegetables, Starch
Meatballs- Iron, Protein
So I hope this easy meal planner and my sample BLW breakfast, lunch and dinner menus have inspired you guys to get started with Baby Led Weaning.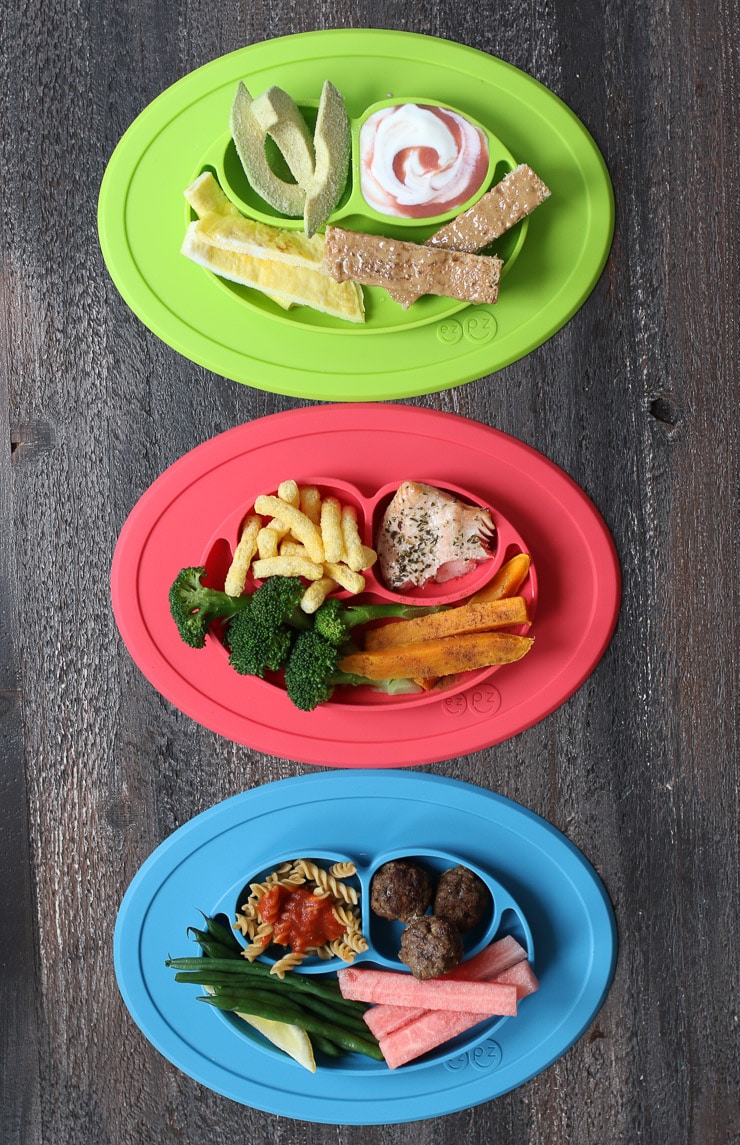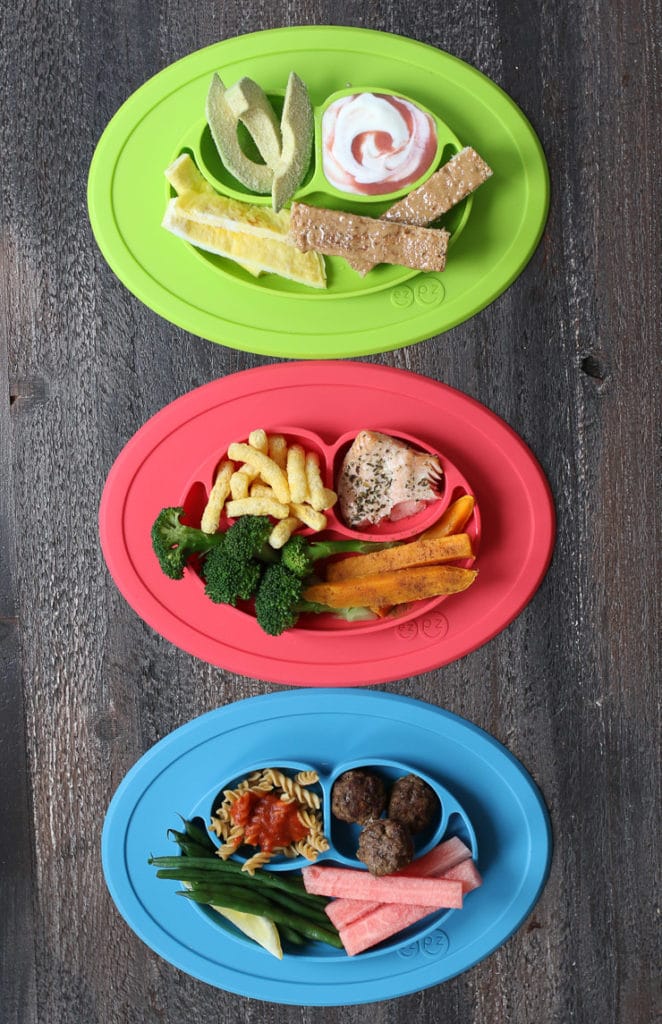 I've also got some awesome recipes to give a try with your babe:
Peanut Butter Banana Mini Muffins
Salmon Sweet Potato Fritters                 Â
So lovelies, I would love to know – what are some foolproof baby led weaning foods that your baby loves?
Leave me a comment below with your thoughts!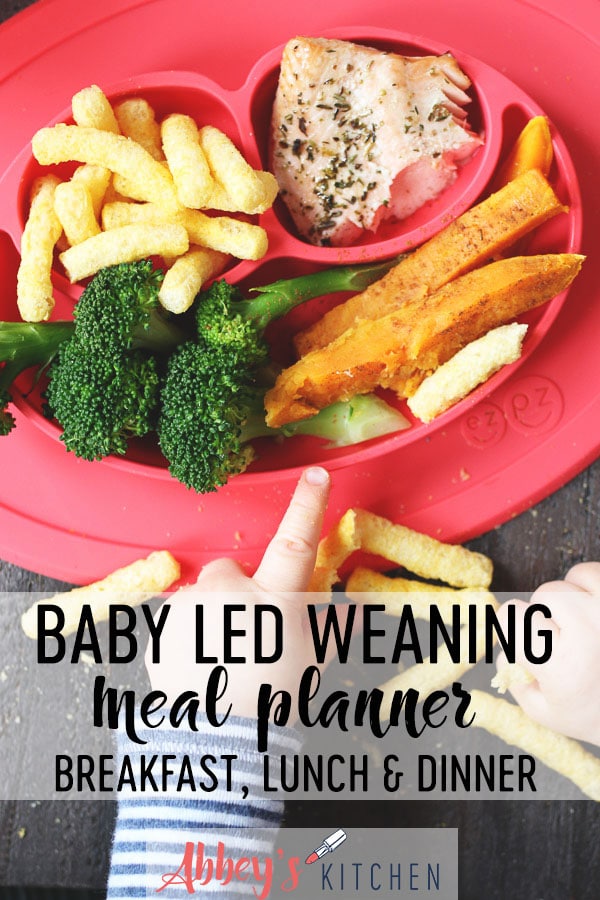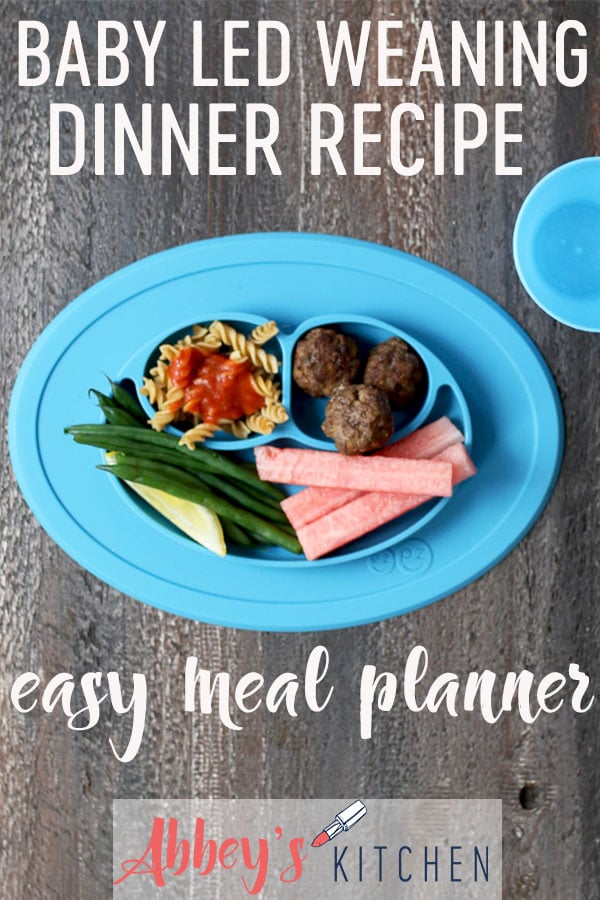 Disclosure: This post was developed in paid partnership with Baby Gourmet, however, all opinions are genuine.
Updated on October 4th, 2021