A look at what a dietitian thinks the Netflix documentary The Magic Pill gets wrong about the keto diet. We review the evidence on the ketogenic diet.

In case you missed it, check out my other post where I covered what The Magic Pill gets (at least kinda, sorta) right about the keto diet – check that out here.
Alright, so we're back to discuss the new hot food documentary that is exploring the controversial ketogenic diet. It talks about how a low carb high fat diet significantly improved the lives of people suffering from a variety of illnesses. The documentary uses powerful testimonials that claim the keto diet promotes weight loss, improves neurological diseases and reverses chronic diseases. From confusing messages about processed foods to painting an ugly picture of carbohydrates, let's uncover what "The Magic Pill" gets wrong about the keto diet.
Claim #1: Early humans only ate meat and fat
A common argument is that the keto diet is the closest to our ancestor's diet. The documentary claims that thousands of generations survived primarily on a meat and fat based diet. The story follows that over the years, with the industrial revolution, our diets have changed to more of a carbohydrate based diet.
What the Research Says
In reality, that is not entirely true. A recent study that collected archeological and anthropological data found that carbohydrates were actually integral part of the human body and actually helped with the growth of the human brain over the last million years. Meat may have kick started the evolution of larger brains, but eating starchy foods apparently made us smarter by providing our brains with glucose (they still do). Even genetic evidence suggests that our salivary amylase (needed to digest starch) has been present in humans for the last one million years. Believe it or not, like today, carbohydrates were an integral part of humans' diets. So to say that carbs are new to the game since the industrial revolution is just not true. Maybe refined carbs, sure, but not carbs period.
Bottom Line: Archeological research has found that carbohydrates have been a large part of our ancestor's diet (long before industrial evolution) and have played a role in the evolution of the human brain. We may now know that our brain can function, maybe even well, without it, but that maybe wasn't true in the past.
Claim #2: All Processed Foods Are Evil
In the documentary, there is a montage of "health experts" going through subjects' kitchens and throwing out processed foods. Throughout the documentary, certain processed foods are demonized while other processed foods are encouraged to cook with. This makes their messages very misleading. While cooking oils like olive oil are encouraged, vegetable oils are seen as "toxic". The documentary is sending mixed messages. They don't take the time to demonstrate the difference between processed and ultra processed foods. There is a critical distinction between the two.
What The Research Says
Have you ever bought milk at the grocery store? It didn't just come out of the cows udder and make it to your door. Processing can make food healthier and safer in a lot of ways.
Minimally Processed Foods: Use little processing or preparation (i.e. washed, packaged fruits and vegetables)
Foods Processed for Preservation: Foods that are preserved to maintain freshness (i.e. canned/frozen fruits and vegetables)
Mixtures of Combined Ingredients: Foods that combine ingredients (sweeteners, colouring, preservatives) to improve taste, safety and visual appeal (i.e. cake mixes, salad dressings)
Ultra Processed Foods: ready-to-eat convenience foods (i.e. breakfast cereals, lunch meats, carbonated beverages, frozen meals/pizzas)
The documentary puts a lot of energy into demonizing foods that can still be incorporated into a healthy diet. Ironically, the documentary promotes a ton of processed foods like cheese, coconut oil and bacon. I would even categorize bacon as a ultra processed foods. I think this documentary needs to refine the language or their recommendations because there are some mad mixed messages.
Bottom Line: Although there is truth to the negative health impact of some highly processed foods, it is important to point out that processed foods exist on a spectrum. Some processed foods can be part of a healthy balanced diet while others should be limited (um, like bacon). The overall recommendation is to follow a diet that is made up of freshly prepared meals from mostly unprocessed or minimally processed foods, some processed foods and small amounts of ultra-processed foods.
Claim #3: All carbohydrates are BAD
Throughout the documentary, carbohydrates are seen as the enemy and are demonized in every single way. Throughout the film carbohydrates are equated to refined sugar and there is no distinction between the different types of carbohydrates.
What The Research Says
As a dietitian, when I think of carbs I think of FIBRE. Fibre does wonders for us. It helps us feel full for longer, helps us manage our weight, lower our cholesterol and the list goes on! One major point the documentary misses is that not all carbs are created equal. There are major differences between refined and processed carbs and whole carbs in their natural state. Depending on the type of carbohydrate, they also have a drastically different impact on blood sugar levels due to their fibre content. Several systematic reviews have found that the intake of whole grains is associated with significant reductions in the risk of cardiovascular disease and cancer.
Bottom Line: Not all carbohydrates are created equal. Depending on the type of carbohydrates will have a drastically different impact on blood sugar levels. Carbohydrates rich in fibre carry significant heart health benefits and keep us full for longer which may help with weight management.
Claim #4: Choose more animal products over fruits and vegetables
In the film they recommend a complete overhaul of the food pyramid by flipping on its head so that fats and animal foods are eaten in higher amounts compared to fruits, vegetables and carbohydrates. Ironically, the base of the pyramid shows a picture of a burger with a fried egg and bacon which is hella processed which furthers their confusing and inconsistent message about processed foods.
What The Research Says
I may eat meat, but I am also a huge supporter of eating more plant based foods. That is not only from an environmental perspective but also from a health perspective. A large body of research has shown that there are a lot of benefits to diets that are rich in plants like the Mediterranean diet or vegetarian/vegan diet. While I do believe there's definitely room in a diet for animal products, we do know that increasing plant-based foods in our diet may help reduce the risk of chronic diseases such as heart disease, diabetes and obesity– I've written a bunch about this here.
Bottom Line: Increasing the plant based foods in our diet may reduce the risk of various diseases. If you're following a keto diet, I recommend trying to find a balance between animal-based protein and plant-based protein and loading up on the low carb veg.
Claim #5: Animal products as a primary source of protein
The documentary wants you to ditch legumes and other plant based proteins because they're too high in carbohydrates. Instead opt for meat to get your protein fix.
What The Research Says
Like I mentioned earlier, plant based proteins have cholesterol lowering benefits and are considered heart healthy. This is not to say that you should avoid meat. Meatless Mondays don't hurt and incorporating a variety of protein sources, animal and plant, carry serious benefits. Plus, the amount of carbs in a cup of beans for the amount of fibre you get is really no big deal. You're looking at 45 g of carbs and 12 grams of protein for 270 calories and 15 grams of protein. No, its not hard core keto-friendly but totally balanced in my books.
Bottom Line: Plant-based protein sources carry a wide range of benefits, so try to enjoy a few Meatless Mondays more often.
Claim #6: Food is the "magic pill"
I'm a firm believer of a "food first" philosophy when it comes to our health, but I think this documentary takes it a little too far. The documentary largely focuses on diet and specific nutrients as the key to good health. It spends very little time acknowledging that lifestyle factors also play an important role in maintaining good health.
What The Research Says
Yes, food plays a huge role in our health, but we can't ignore the other factors that impact our health. We know that that health is shaped by a variety of things, from our genetic makeup to lifestyle factors like smoking. Sometimes medication and other interventions are the only solution, or are an essential part of the solution and not just a diet.
Bottom Line: There's more to our health than just what we eat. Majority of the time, treating a condition requires a variety of treatment efforts. Suggesting that we can just go off of our medications or abstain from lifesaving therapy by taking on a diet can be dangerous and potentially deadly advice.
The Magic Pill did get some things right when it comes to the ketogenic diet. However, there's a whole lot of information and research that was conveniently omitted to support their case. We still need a lot more stronger studies to say with confidence that the keto diet really is the "magic pill". I do think that the keto diet has its merits, especially in clinical settings, but it's not without its risks. Not to sound like a broken record, but a healthy diet is one you can maintain in the long run. It's up to you to find what works for YOU.
Become an Abbey's Kitchen Subscriber
In case you missed it, check out my other post where I covered what "The Magic Pill†gets right about the keto diet.
If you liked this post, you may like:
So friends, tell me, what do you think of the Magic Pill?
What are your general thoughts or experiences with the keto diet?
Any other new food documentary's you want me to review?
Leave me a comment below!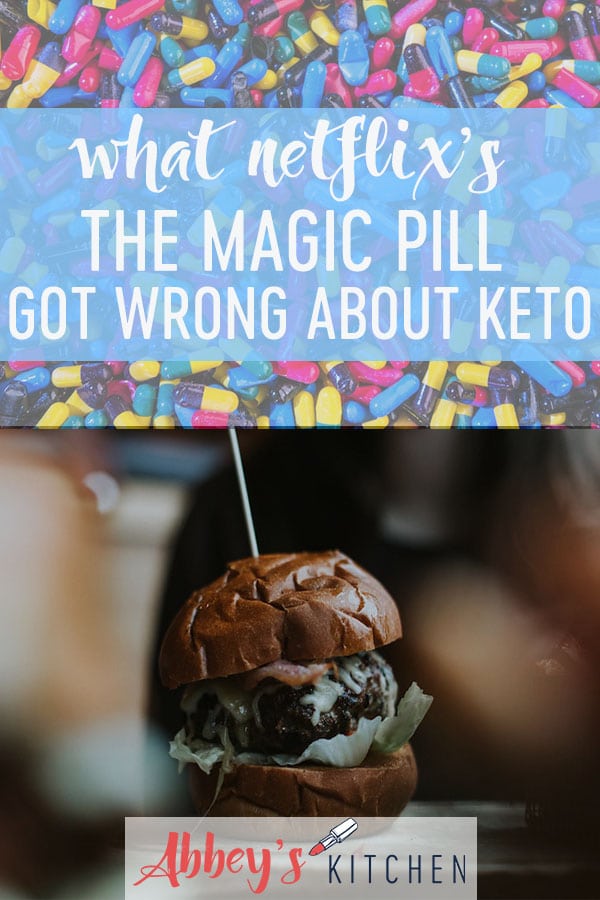 Contribution By:
RD2B Giselle Segovia
Edits By Sofia Tsalamlal, MHSc, RD
Updated on August 15th, 2020