I share my favourite 4 Greek yogurt parfait recipes for those days when you're just feeling way more savory vs sweet and want the benefits of a yogurt rich in protein at breakfast or snack without fruit or granola on top.
We are big yogurt eaters in my house. As a dietitian, I love that Greek yogurt is a convenient source of bone-supportive protein, calcium and in some cases (where fortified)- vitamin D! The fermentation and some have probiotics amazing for digestive health, and the natural carbohydrates help fuel our busy days. As a mom, I love that it's also a nutritious food that my little kid actually loves! I put yogurt in smoothies, popsicles, overnight oats and just serve it straight up for him for breakfasts and snacks.
How to Make Savory Greek Yogurt Parfait Recipes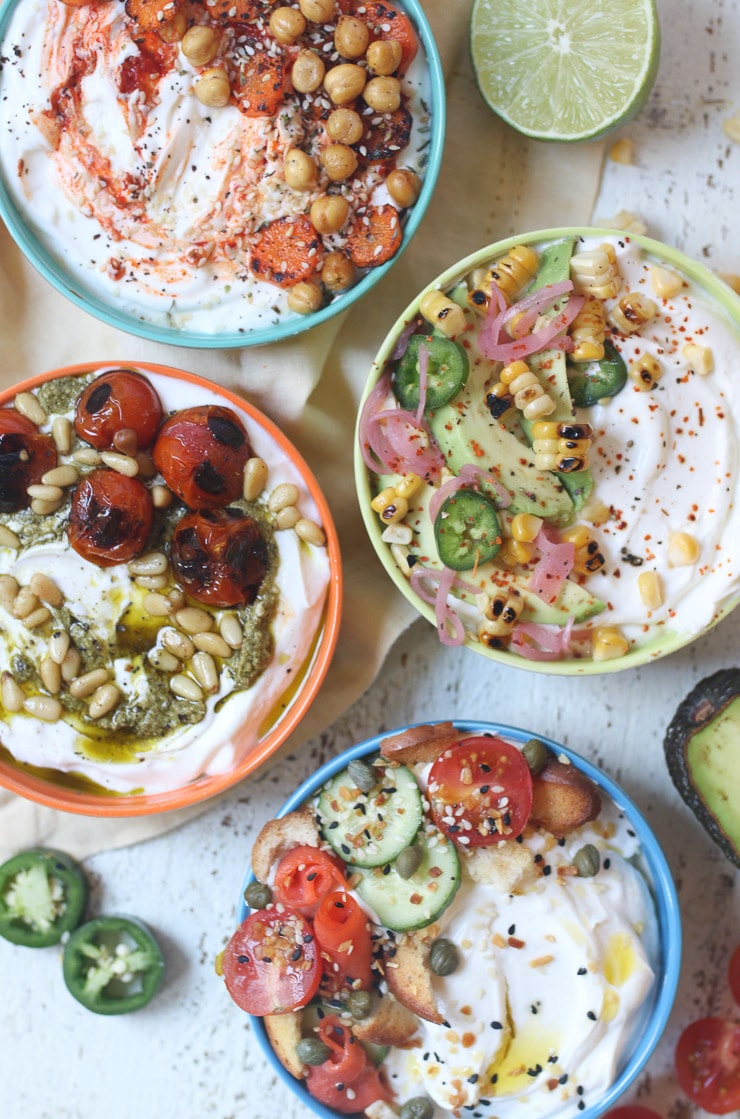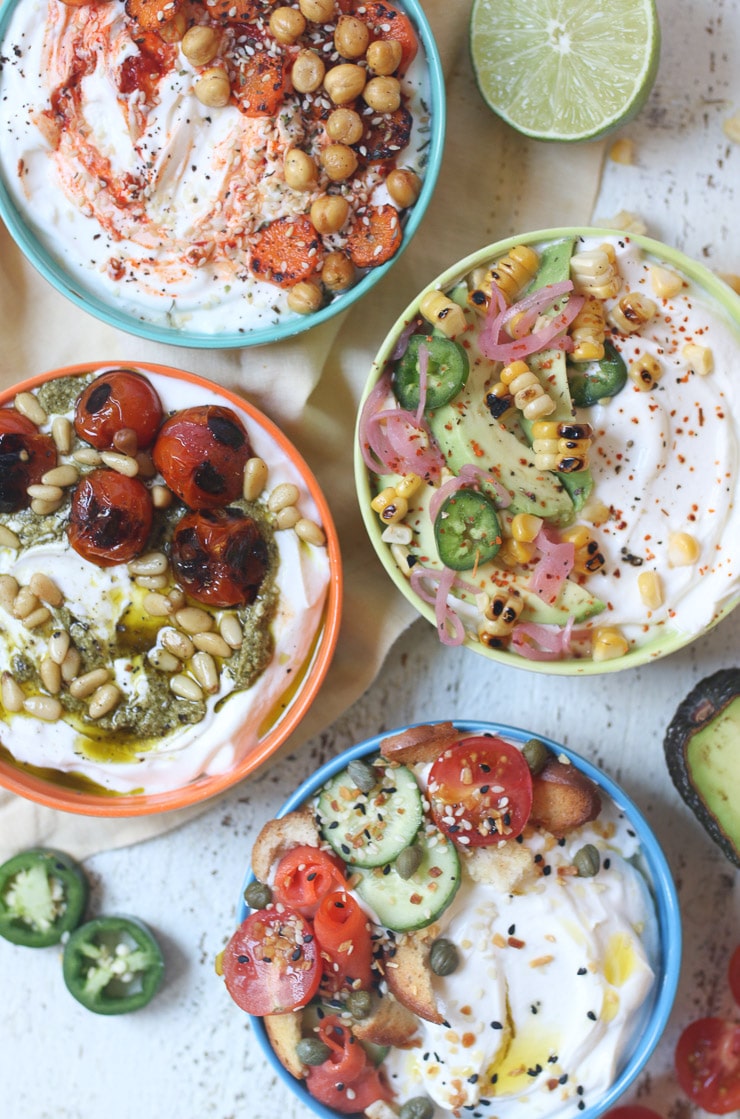 There are SO many yogurt options out there, but I recommend looking for an option with no added sugar (especially if you're making a savory yogurt parfait like this). I also prefer a higher milk fat option (especially for kids), and of course, a higher protein Greek yogurt, but you can definitely use whatever your family enjoys! Here are some of my favourite protein rich yogurt parfait combinations.
What do I need for these Greek Yogurt Parfait Recipes?
These high protein snacks are so versatile, you can use whatever you have in your fridge. Here are some of our go-to toppings and ingredients:
Greek yogurt
Veggies
Seeds
Nuts

Hot sauce

Olive oil

Spices

and seasonings
Everything Bagel Savory Greek Yogurt Bowl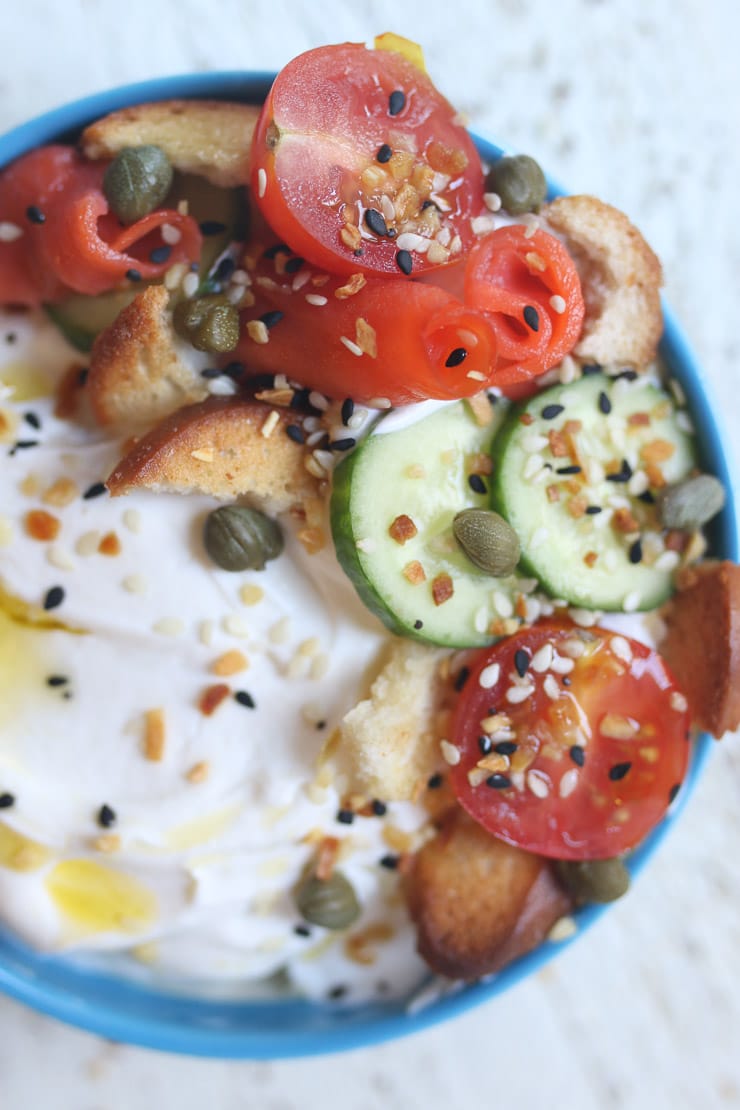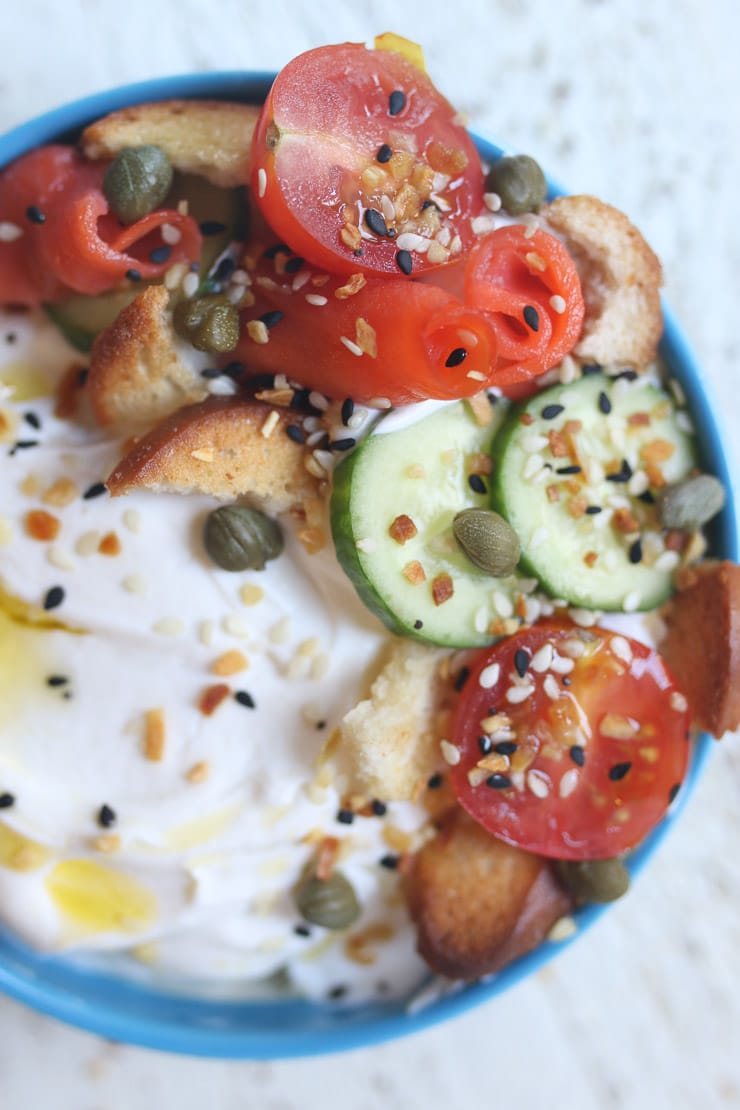 It's like a Jewish everything bagel fest without the bagels!! I combine some smoked salmon, tomatoes, cucumbers, bagel chips, tomatoes, capers, and OF COURSE some everything bagel spice. Y'all know I am obsessed with this stuff in my breakfast parfait.
Tomato Pesto Protein Packed Yogurt Parfait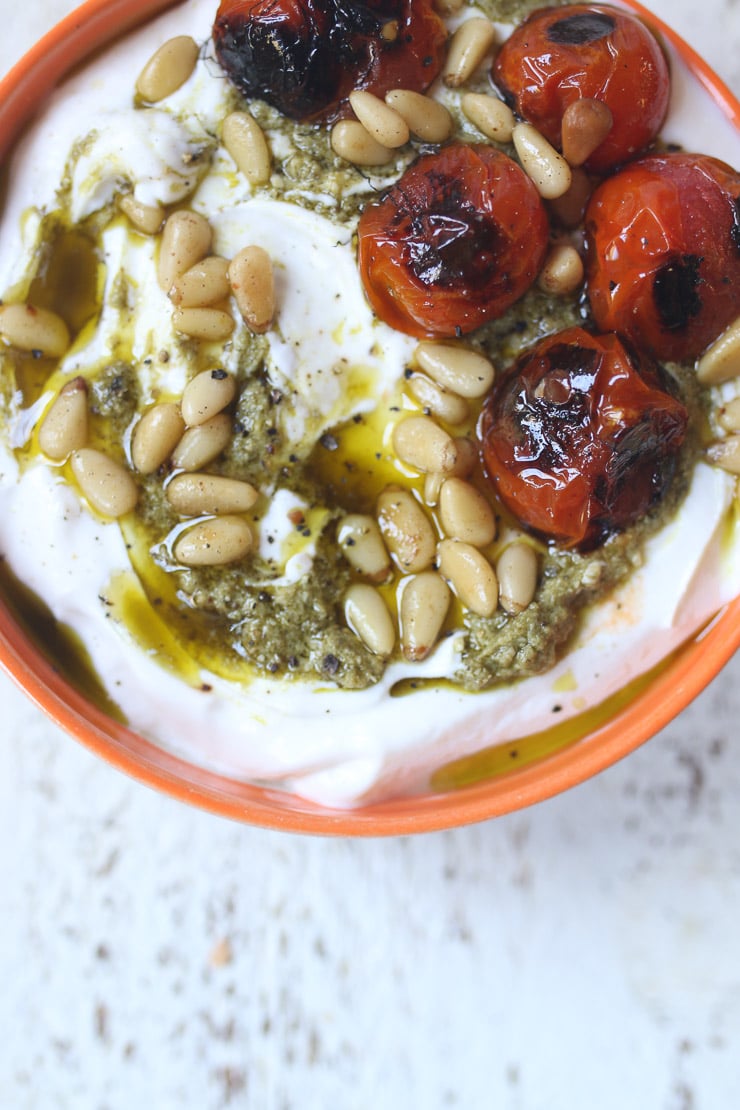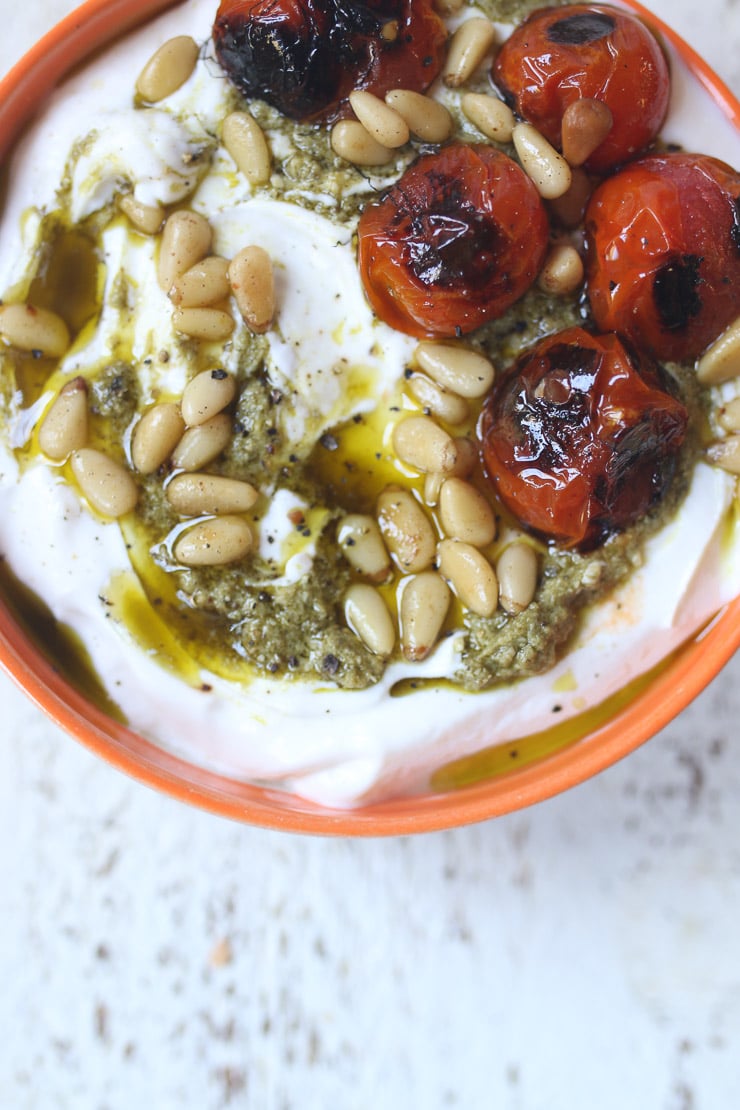 I still have a huge batch of pesto from my bumper crop of basil this past summer, but of course, you can grab your favourite store-bought bread and swirl in it. I then roasted some cherry tomatoes and topped the Greek yogurt bowl off with toasted pine nuts. So so good.
Middle Eastern Savory Yogurt Cups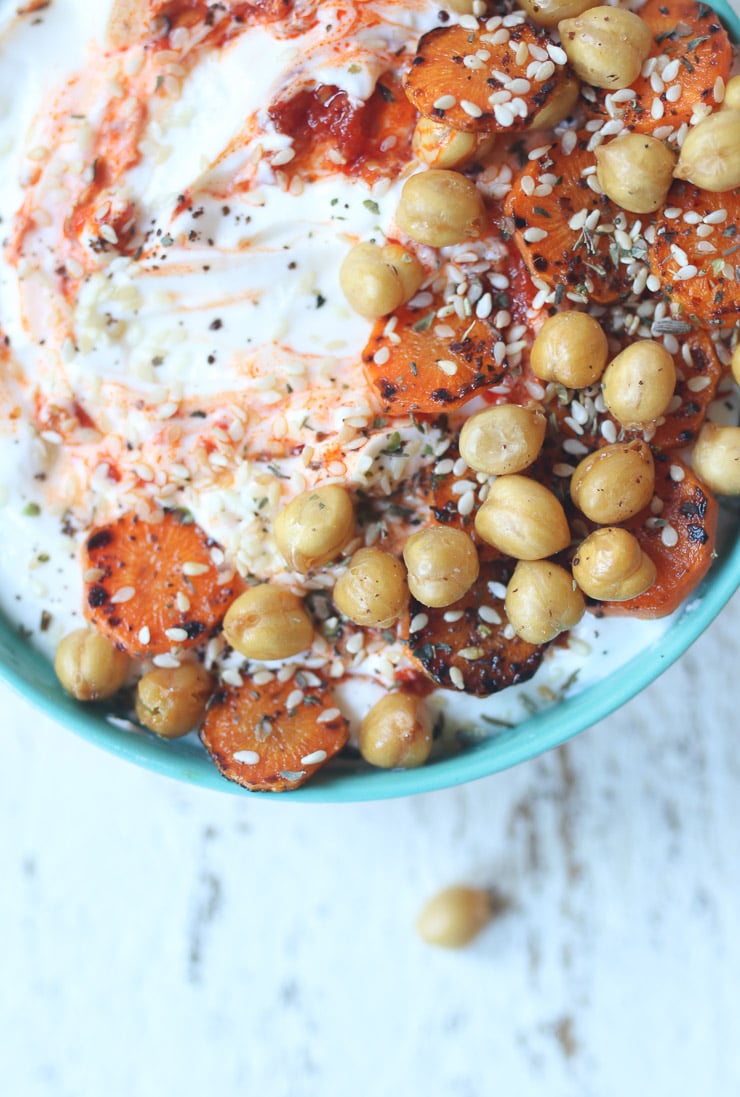 Have you ever tried harissa? It's legit one of the tastiest hot sauces ever and a traditional Middle Eastern condiment. I swirl a little of that in, and top it off with some pan roasted carrots, crispy chickpeas, za'atar and extra sesame for a super savory yogurt bowl.
Spicy Summer Greek Yogurt Parfait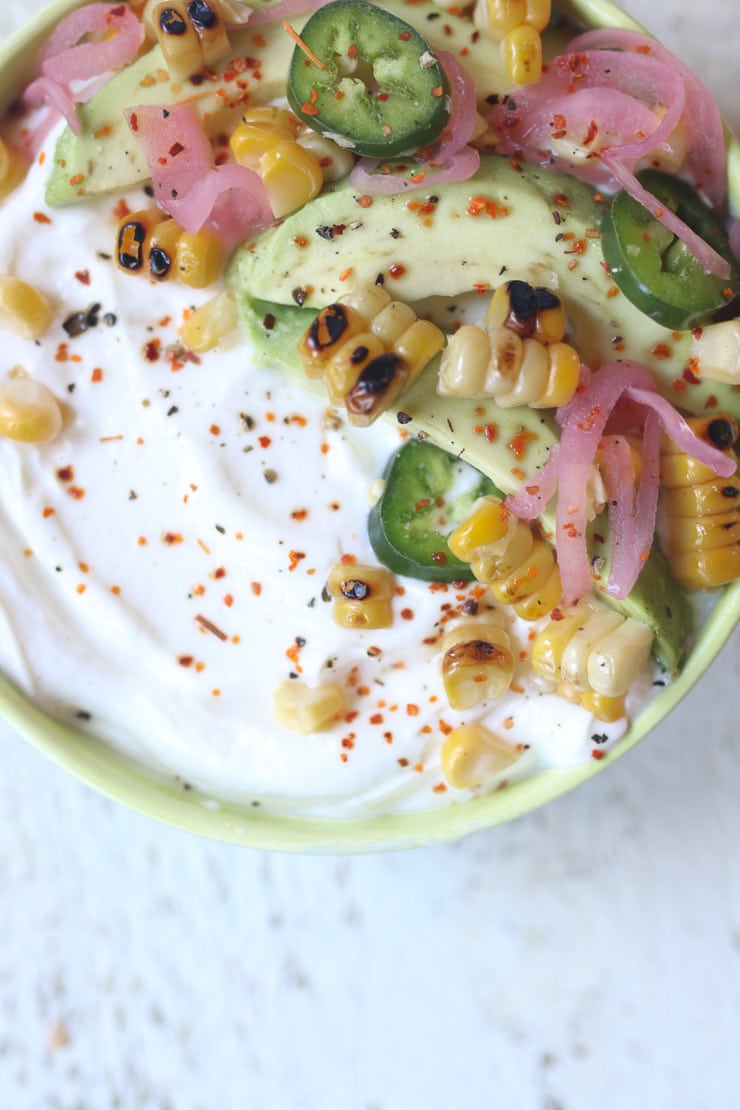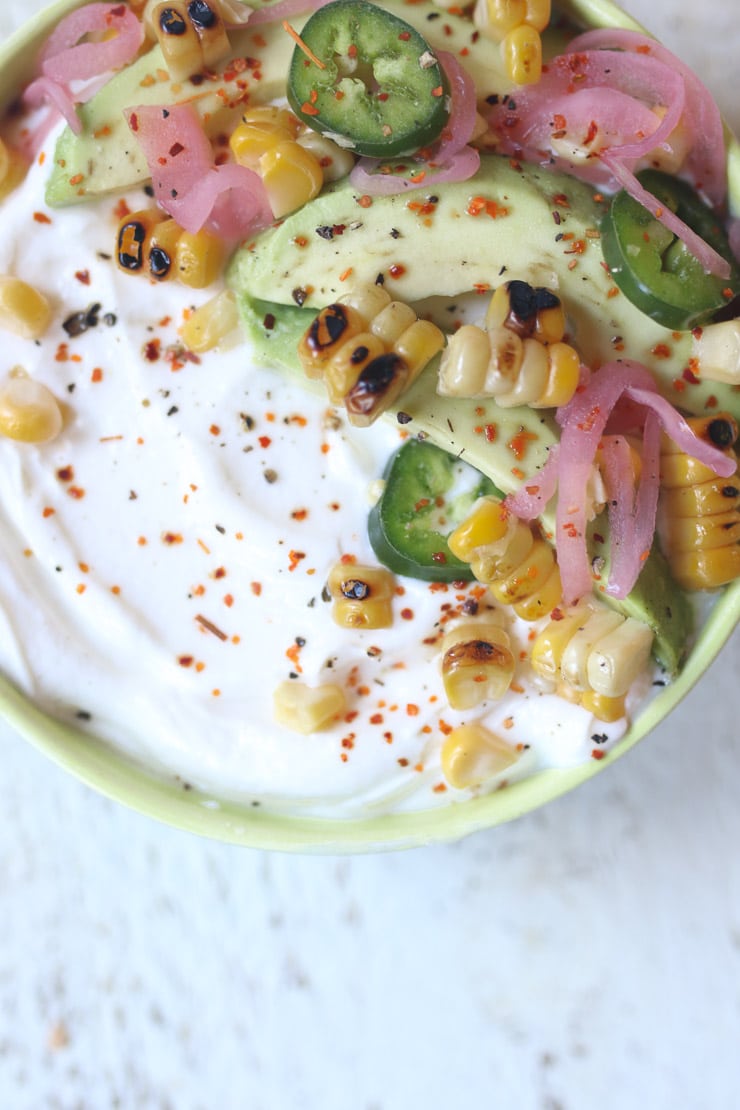 Summer might be officially over but I still love to revisit the flavours with this summer savory Greek yogurt parfait. I combine some roasted corn, avocado, pickled shallots and jalapeño, and top it off with lots of my favourite seasoning, tajin.
Can I make savory yogurt bowls with ANYTHING?
Yep. LEGIT anything. These Greek yogurt bowls are a great way to clear out the fridge with whatever veggies, protein or sauces you've got kicking around.
Can these breakfast parfaits be made ahead of time?
Yes, most of the ingredients will stay fresh if you pop them on there the night before, but there are a few items I prefer to leave separate and add last minute. Think crunchy dry foods like nuts, seeds, and crispy chickpeas. Also, avocado will brown, so if you want to make your yogurt parfait Instagram worthy, you may want to leave that out too.
Why is Greek yogurt high in protein?
If you haven't yet noticed, Greek yogurt is definitely thicker and creamier then regular strained yogurt. Most Greek yogurts have about 10 grams of protein per 100 gram serving or more. There are other high protein yogurt options as well like Skyr or some plant based Greek yogurt (check the label for protein amount).
Are there any ingredients that don't work with Greek yogurt?
The sky is the limit! Of course, you may want to avoid super sweet ingredients like fruit or jam, and save that for your sweet yogurt bowls. But otherwise, have fun with it and experiment!
What are other recipes I can make with yogurt?
What are some of your favourite savory yogurt bowl combinations? What are you adding to keep your yogurt parfaits high in protein and super satiating?
Leave me a comment below and send this to someone who LOVES yogurt!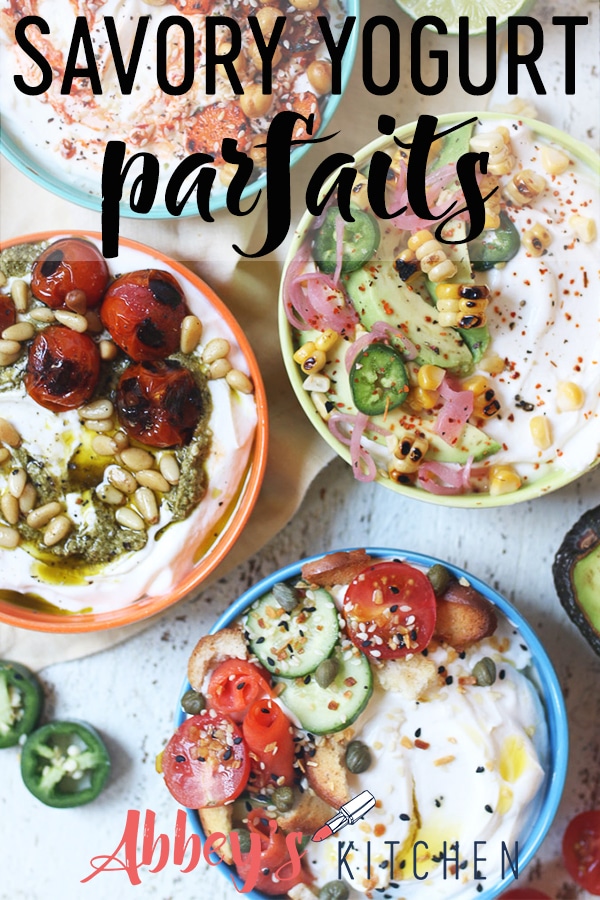 Disclaimer: This post was developed in paid partnership with General Mills, however, all opinions are genuine.
Updated on July 21st, 2020